| | |
| --- | --- |
| Book Name: | [PDF] Cursed Book |
| Author: | Marissa Meyer |
| Category: | A Special Books |
| Language: | English |
| Format: | PDF |
| Free Download: | Available |
Free Download Cursed Book PDF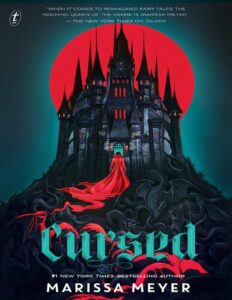 Book Description: 
New York Times-bestselling author Marissa Meyer concludes her young adult retelling of Rumpelstiltskin in this breathtaking sequel!

'The reigning queen of the genre.' – New York Times
'Intricate worldbuilding and star-crossed romance.' – Publishers Weekly
It isn't true; she wanted to whisper. To lean forward and nuzzle her cheek against his temple. To press him against the wall and mold her body to his. I am not his. I will never be his.
Serilda and Gild cannot break the curses that tether their spirits to Adalheid's haunted castle. There they remain trapped for eternity. On the night of the Endless Moon, the Erlking means to capture one of the seven gods and be reunited with his lover, Perchta, who has been banished to the underworld.
But it soon becomes clear that Erlking's hunger for vengeance won't be satisfied with a single wish, and his true intentions have the power to alter the mortal realm forever.
Serilda and Gild have no choice but to thwart his plans while solving the mystery of Gild's forgotten name and freeing all the ghosts kept in servitude to the dark ones. As the evil forces gather, it seems only their love is strong enough to sustain them.
About the Author
Marissa Meyer is the #1 New York Times–bestselling author of the Renegades Trilogy, The Lunar Chronicles series, the Wires and Nerve graphic novels, and The Lunar Chronicles Coloring Book. Her first standalone novel, Heartless, was also a #1 New York Times bestseller. Marissa created and hosted a podcast called The Happy Writer. She lives with her husband and two daughters in Tacoma, Washington.
Cursed PDF
Series: Gilded vol. 2
Publisher: Faber & Faber, Year: 2022
ISBN: 0571371612,9780571371617
Related More Books
See More POST On : A Special Books