| | |
| --- | --- |
| Book Name: | [PDF] Barry's Introduction to Construction of Buildings |
| Category: | Civil Engineering Books |
| Language: | English |
| Format: | PDF |
| Free Download: | Available |
Free Download Barry's Introduction to Construction of Buildings PDF Book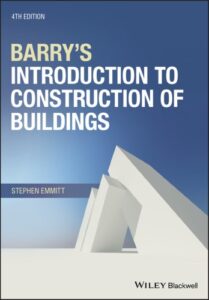 Book Description:
AN AUTHORITATIVE, WELL-ESTABLISHED, COMPREHENSIVE, PRACTICAL, AND HIGHLY ILLUSTRATED GUIDE TO CONSTRUCTION PRACTICE. Based mainly on domestic and residential buildings and filled with extensive illustrations throughout-this, concise text is the ideal introduction to the subject of building construction. It provides the basic material readers need to understand the construction process for most low-rise buildings. The book explains construction technology through the key functional and performance requirements for the main elements common to all buildings. With a strong focus on building efficiency and meeting the challenges posed by limiting the environmental impact of buildings, and with new "at a glance" summaries allowing you to grasp the salient points of each chapter, readers will find the text fully up to date with the latest building regulations and construction technology. Barry's Introduction to Construction of Buildings, Fourth Edition, starts by taking an in-depth look at the construction process and general principles. It then offers comprehensive chapter coverage of site analysis, set-up, drainage, and scaffolding; ground stability and foundations; floors, walls, doors, windows, roofs, stairs, and ramps; surface finishes; internal environment and energy supply; and water supply and sanitation. Deals with design, technology, site assembly, and environmental issues of domestic and residential buildings. Thoroughly updated, with particular attention paid to building efficiency and improved integration of the topics covered to match current student needs. New "at a glance" summaries at the beginning of each chapter. A companion to Barry's Advanced Construction of Buildings, Fourth Edition. Barry's Introduction to Construction of Buildings is an excellent source of information for undergraduate students and those working towards similar NQF level 5 and 6 qualifications in building and construction.
Preface
Robin Barry's Construction of Buildings first appeared in print in 1958 and eventually grew into five volumes. When I took on revising and updating the Barry books, I decided to condense the work into two volumes to make it more accessible to readers. This was a big task, and it required the input of a former colleague, Christopher Gorse, and the help of many individuals and companies, for which I remain incredibly grateful.
Working on the books continues to be a process of addition and subtraction to keep the content topical and informative to a wide readership. As a solo‐authored work, it has been possible to simplify further and clarify the content while making the latest round of revisions. This has resulted in the repositioning of material and new features, such as 'How to navigate this book' and the 'At a glance fact sheets. The repositioning of material from one volume to another and within volumes has helped to ensure a more logical flow of information that reflects the construction process. The main changes to each volume are as follows.
This volume has retained the same chapter structure, with changes made within chapters to improve readability. The introductory chapter has been rewritten to explain the construction process better and to emphasize its environmental impact. The material on timber‐framed construction has been moved to the Advanced volume, which has allowed for simplification, rewriting, and renaming of Chapter 5 to reflect the content on load-bearing wall construction better. Scaffolding can now be found in this volume, and the material on foundations has been restructured in both volumes to remove repetition.
How to Navigate this Book
The Barry books are presented in two volumes, Introduction and Advanced, with the volumes designed to complement one another. The titles reflect the stage at which these subjects are taught in colleges and universities in the UK. The introduction covers the first year, primarily dealing with load-bearing construction and domestic-scale developments. It also covers the common elements found in most buildings. The Advanced volume includes material usually taught in the second to third year, primarily dealing with offsite techniques and framed construction for more significant buildings. Combined, the two volumes take the reader through the entire life cycle of a building – from inception and construction; to the building in use; and the eventual demolition, recycling, and reuse of valuable resources.
Download Barry's Introduction to Construction of Buildings PDF 
Author(s): Stephen Emmitt
Publisher: Wiley/Blackwell Publishing, Year: 2019
ISBN: 1118977165, 9781118977163
Related More Books