| | |
| --- | --- |
| Book Name: | On Food and Cooking: The Science and Lore of the Kitchen |
| Category: | Cooking Books |
| Language: | English |
| Format: | PDF |
| Free Download: | Available |
Free Download On Food and Cooking: the Science and Lore of the Kitchen PDF Book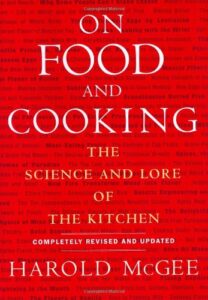 Book Description: 
On Food and Cooking by Harold McGee is a classic cookbook. When it came out in 1984, Time magazine called On Food and Cooking "a minor masterpiece." Since then, it has become the bible for food lovers and professional chefs worldwide who want to know where our foods come from, what they are made of, and how cooking changes them into something new and tasty.
Harold McGee has made a new, fully revised, and up-to-date version of On Food and Cooking for the book's 20th anniversary. He has almost completely rewritten the text, made it two-thirds longer, and asked for more than 100 new illustrations to be made. As exciting and easy to read as ever, the new On Food and Cooking is full of new ideas about food, how to make it, and how to enjoy it.
On Food and Cooking was the first book to turn technical food science into science that cooks could understand. It also helped start the creative food movement called "molecular gastronomy." Even though other books have been written about kitchen science, On Food and Cooking is still the best because of how accurate, clear, and complete its explanations are and how interestingly it combines science with the history of foods and cooking techniques changed over time.
On Food and Cooking is a vast collection of basic information about ingredients, cooking methods, and the pleasures of eating. It is a handy and necessary book. It will be fun and exciting for anyone who has cooked, eaten, or thought about food.
Table of contents :
Intro
Dedication
Acknowledgments
Introduction: Cooking and Science, 1984 and 2004
Chapter 1: Milk and Dairy Products
Chapter 2: Eggs
Chapter 3: Meat
Chapter 4: Fish and Shellfish
Chapter 5: Edible Plants: An Introduction to Fruits and Vegetables, Herbs and Spices
Chapter 6: A Survey of Common Vegetables
Chapter 7: A Survey of Common Fruits
Chapter 8: Flavorings from Plants: Herbs and Spices, Tea and Coffee
Chapter 9: Seeds: Grains, Legumes, and Nuts
Chapter 10: Cereal Doughs and Batters: Bread, Cakes, Pastry, Pasta
Chapter 11: Sauces Chapter 12: Sugars, Chocolate, and ConfectioneryChapter 13: Wine, Beer, and Distilled Spirits
Chapter 14: Cooking Methods and Utensil Materials
Chapter 15: The Four Basic Food Molecules
Appendix: A Chemistry Primer
Selected References
Index
Copyright
Download On Food and Cooking: The Science and Lore of the Kitchen PDF 
Author(s): McGee, Harold
Publisher: Scribner, Year: 2007
ISBN: 1416556370,9781416556374
Related More Books