| | |
| --- | --- |
| Book Name: | Network Design for IP Convergence |
| Category: | Telecommunication Books |
| Free Download: | Available |
Free PDF Download Network Design for IP Convergence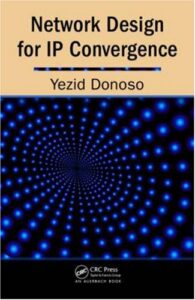 Book Description:
A Comprehensive "Global" Vision of Convergence
The emergence of quality-of-service (QoS) mechanisms continues to propel the development of real-time multimedia services such as VoIP and videoconferencing. However, there remain many challenges to achieving optimized standardization convergence.
Basic Network Design, Equipment, and QoS Policies Network Design for IP Convergence is a comprehensive, "global" guide to state-of-the-art and recent advances in IP network implementation. Providing an introduction to basic LAN/WAN/MAN network design, the author covers the latest equipment and architecture, addressing QoS policies, and integration of services, among other topics. The book explains how to integrate the different layers of reference models and various technological platforms to mirror the harmonization that occurs in the real world of carrier networks. It furnishes appropriate designs for traditional and critical services in the LAN and carrier networks (both MAN and WAN). It clarifies how a specific layer or technology can cause those services to malfunction. This book lays a foundation for understanding with concepts and applicability of QoS parameters under the multilayer scheme and a solid explanation of service infrastructure. It describes integration in both real-time and "not real-time," elaborating on how both processes can co-exist within the same IP network and concluding with the designs and configurations of service connections.
Learn How to Overcome Obstacles to Improve Technology This sweeping analysis of the implementation of IP convergence and QoS mechanisms helps designers and operators get past key obstacles, such as integrating platform layers and technologies and implementing various associated QoS concepts, to improve technology and standards.
Network Design for IP Convergence PDF
Author(s): Yezid Donoso
Publisher: CRC-Press, Year: 2009
ISBN: 9781420067507,1420067508
Related More Books