| | |
| --- | --- |
| Book Name: | Multifunctional Ultrawideband Antennas |
| Category: | Telecommunication Books |
| Free Download: | Available |
Free PDF Download Multifunctional Ultrawideband Antennas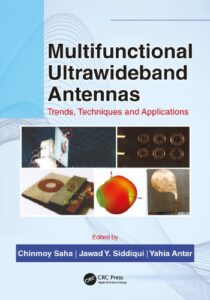 Book Description:
Multifunctional Antennas (MFA) are comparatively a new area for antenna research and find applications in various modern wireless radios, like Cognitive Radio (CR) in Software Defined Radio (SDR) technology and MIMO technology. This book is a first attempt and an invaluable resource that deals with designing and realizing various kinds of multifunctional antennas. After clearly explaining the exclusive features of MFAs, the book presents various designs of such antennas considering versatile modern and upcoming applications. Written by three internationally known researchers, Multi-Functional Ultra Wideband Antennas: Trends, Techniques, and Applications:
– Provides a lucid introduction to UWB systems and historical perspective and discusses various applications of such systems
– Discusses fundamentals of antennas and their characterization in time and frequency domains, primarily aimed at beginners in the area
– Revisits the design and realization of various classical UWB antennas
– Discusses various techniques of designing frequency-notched UWB antennas and provides a detailed comparison of the techniques
– Deals with the techniques of deriving multiple antenna functionalities from a single antenna
– Incorporates exclusive discussions on modern reconfigurable antennas and printed and dielectric resonator-based MIMO antennas with a clear focus on recent and upcoming technological requirements.
With Multi-Functional Ultra Wideband Antennas: Trends, Techniques, and Applications, antenna engineers, communication system engineers, graduate students, and academic/industry researchers will gain a thorough knowledge of the design of such antennas with clear physical insight and understanding.
Multifunctional Ultrawideband Antennas: Trends, Techniques And Applications PDF
Author(s): Chinmoy Saha, Jawad Y. Siddiqui, Yahia M.M. Antar
Publisher: CRC Press/Taylor & Francis, Year: 2019
ISBN: 1138553549, 9781138553545
Related More Books