| | |
| --- | --- |
| Book Name: | Make Tools How They Work and How to Use Them by Charles Platt |
| Language: | English |
| Format: | PDF |
| Free Download: | Available |
Make Tools How They Work and How to Use Them by Charles Platt | PDF Free Download. 
Book Details :
Language
English
Pages
562
Format
PDF
Size
32.5 MB
---
Make Tools How They Work and How to Use Them by Charles Platt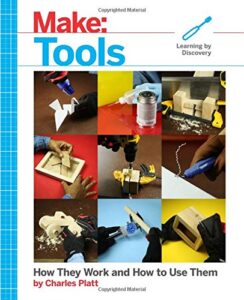 ---
Make Tools Contents
---
Chapter 1: A Perplexing Puzzler

Chapter 2: The Curious Cube

Chapter 3: Big Dice

Chapter 4: Nailing It

Chapter 5: Framing It

Chapter 6: A Geometrical Jigsaw

Chapter 7: A Piece of Parquetry

Chapter 8: Drilling It

Chapter 9: A Swanee Whistle

Chapter 10: A Basic Box

Chapter 11: A Bare-Minimum Bookcase

Chapter 12: Hanging On the Wall

Chapter 13: A Monster Truck

Chapter 14: A Pantograph

Chapter 15: Bending It

Chapter 16: A Better Box

Chapter 17: Another Better Box

Chapter 18: Transparency

Chapter 19: Color

Chapter 20: More Tools
Introduction to Make Tools How They Work and How to Use Them
---
Some skills are so basic, people take them for granted. Hammering a nail into a piece of wood, for instance. What could be simpler than that? Actually, it's not so simple.
There are more than 20 kinds of the hammer. Can you recognize the difference between a claw hammer and a cross-peen hammer? And does it matter?
The head of a typical hammer weighs 16 ounces, but you can buy an 8- ounce hammer if you prefer (see Figure I-1). Or how about a 24-ounce hammer? Which type is easier to use? And would a fiberglass handle be better than a wooden handle?
How about a steel handle? And when you hold the handle, should you grip it near the head of the hammer or near the end of the handle? Now consider your choice of a nail.
There are common nails, finishing nails, galvanized nails, ring-shank nails, coated nails, decorative nails, and many more. Common nails are often sold by weight in the United States, and their size may be described in pennies.
If you buy a pound of sixpenny nails, would you like to know how big they are and how many will be in the box? What's the largest nail you can buy? (It may be larger than you think. See Figure I-2.) Suppose you want to cut some wood.
This raises many more questions. If you use a handsaw, how do you start the cut without the saw jumping around or sliding sideways? Is a Japanese-style pull-saw easier to use than a Western-style saw that cuts when you push it? Will you be more likely to hurt yourself with a pull-saw?
How can you prevent the underside of a piece of wood from splintering when the saw emerges through it? How do you make a precisely vertical cut?
Power saws are easier to use in many ways than hand saws, but in that case, why do handsaws still exist? If you use a power saw, should it be battery-powered or plug-in?
What are the relative advantages of a reciprocating saw, a circular saw, a band saw, a scroll saw, a jigsaw, and a table saw? How many teeth per inch should the blade have? Do you need a different type of blade to cut plastic?
Really, there are so many questions about tools, you need a whole book to answer them. This is that book.
Are Tools Still Useful?
In a world where 3D printing can create anything from a gearbox to a house, you may wonder if anyone needs hand tools in a workshop anymore. It's true that 3D printers are wonderful, but they have limitations.
For a start, none of them can work with wood, and very few can use metal. They are ideal for prototyping, but a component fabricated with a 3D printer will almost always have to be mated with some other part, or may need to be installed in an enclosure or adapted in some way.
For these purposes, workshop skills are still useful. Moreover, if you want to make something that is beautiful instead of merely functional, you will need to work with your hands.
Who Can Use Make Tools How They Work and How to Use Them eBook
Anyone who is willing to follow simple instructions can use this book, so long as you have the basic manual ability and reasonably good eyesight. Age and gender are not relevant.
You can be a complete beginner, but if you do already have some basic skills, I think you'll still find a lot of value here. I will be bringing together numerous facts, tips, and tricks that have taken me a lifetime to learn.
You may not know all of them. This book will also serve as a reference source. If you want to remind yourself of the difference between a tenon saw and a panel saw, or if you are trying to remember if poplar is a harder wood than birch, you can look up the answers here.
Make: Tools: How They Work and How to Use Them
Author(s): Charles Platt
Publisher: Maker Media, Inc, Year: 2016
ISBN: 1680452533,9781680452532
Download Make Tools How They Work and How to Use Them by Charles Platt in PDF Format For Free. 
Related More Books
See More POST On : Engineering Books