| | |
| --- | --- |
| Book Name: | Machine-to-Machine Communications |
| Category: | Telecommunication Books |
| Free Download: | Available |
Free PDF Download Machine-to-Machine Communications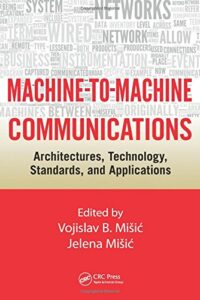 Book Description:
With the number of machine-to-machine (M2M)–enabled devices projected to reach 20 to 50 billion by 2020, there is a critical need to understand the demands imposed by such systems. Machine-to-Machine Communications: Architectures, Technology, Standards, and Applications offers a rigorous treatment of the many facets of M2M communication, including its integration with current technology.
Presenting the work of a different group of international experts in each chapter, the book begins by supplying an overview of M2M technology. It considers proposed standards, cutting-edge applications, architectures, and traffic modeling and includes case studies highlighting the differences between traditional and M2M communications technology.
– Details a practical scheme for the forward error correction code design
– Investigates the effectiveness of the IEEE 802.15.4 low data rate wireless personal area network standard for use in M2M communications
– Identifies algorithms that will ensure functionality, performance, reliability, and security of M2M systems
– Illustrates the relationship between M2M systems and the smart power grid
– Presents techniques to ensure integration with and adaptation of existing communication systems to carry M2M traffic
Providing authoritative insights into the technologies that enable M2M communications, the book discusses the challenges posed by the use of M2M communications in the smart grid from the aspect of security and proposes an efficient intrusion detection system to deal with a number of possible attacks. After reading this book, you will develop the understanding required to solve problems related to the design, deployment, and operation of M2M communications networks and systems.
Table of contents :
M2M Communications in the Cyber-Physical World: Case Studies and Research Challenges; Jiafu Wan, Min Chen, and Victor C. M. Leung
Architecture and Standards for M2M Communications; Dejan Drajić, Nemanja Ognjanović, and Srdjan Krčo
M2M Traffic and Models; Markus Laner, Navid Nikaein, Dejan Drajić, Philipp Svoboda, Milica Popović, and Srdjan Krčo
Practical Distributed Coding for Large-Scale M2M Networks; Yuexing Peng, Yonghui Li, Mohammed Atiquzzaman, and Lei Shu
Evaluating Effectiveness of IEEE 802.15.4 Networks for M2M Communications; Chao Ma, Jianhua He, Hsiao-Hwa Chen, and Zuoyin Tang
Reliability of Wireless M2M Communication Networks; Lei Zheng and Lin Cai
Energy-Efficient Machine-to-Machine Networks; Burak Kantarci and Hussein T. Mouftah
Machine-to-Machine Communications in the Smart Grid; Melike Erol-Kantarci and Hussein T. Mouftah
Intrusion Detection System for Machine-to-Machine Communication in the Smart Grid; Nasim Beigi Mohammadi, Jelena Mišić, Vojislav B. Mišić, and Hamzeh Khazaei
M2M Interactions Paradigm via Volunteer Computing and Mobile Crowdsensing; Symeon Papavassiliou, Chrysa Papagianni, Salvatore Distefano, Giovanni Merlino, and Antonio Puliafito
Index
Machine-to-Machine Communications: Architectures, Technology, Standards, and Applications PDF
Author(s): Vojislav B. Mišić, Jelena Mišić
Publisher: CRC Press, Year: 2014
ISBN: 1466561238, 9781466561236
Related More Books