| | |
| --- | --- |
| Book Name: | Joint Communications and Sensing |
| Author: | J. Andrew Zhang, Yingjie Jay Guo, Kai Wu |
| Language: | English |
| Format: | PDF |
| Free Download: | Available |
Free PDF Download Joint Communications and Sensing: From Fundamentals to Advanced Techniques Book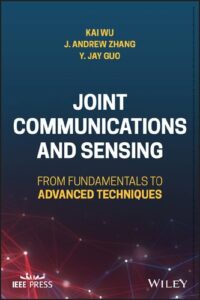 Book Description:
JOINT COMMUNICATIONS AND SENSING
Authoritative resources systematically introduce JCAS technologies and provide valuable information and knowledge to researchers and engineers.
Based on over six years of dedicated research on joint communications and sensing (JCAS) by the authors, their collaborators, and students, Joint Communications and Sensing is the first book to comprehensively cover the subject of JCAS, which is expected to deliver huge cost and energy savings and therefore has become a hallmark of future 6G and next-generation radar technologies.
The book has three parts. Part I presents the basic JCAS concepts, applications, and signal processing algorithms to support JCAS. Part II covers communications-centric JCAS designs that describe how sensing can be integrated into communications networks such as 5G and 6G. Part III presents ways to integrate communications in various radar-sensing technologies and platforms.
Specific sample topics covered in Joint Communications and Sensing include:
Three categories of JCAS systems, potential sensing applications of JCAS, signal processing fundamentals, and channel models for communications and radar
Frameworks for perceptive mobile networks (PMNs), system modifications to enable PMN sensing, and PMN system issues
Orthogonal time-frequency space waveform-based JCAS for IoT, including signal models, echo pre-processing, and target parameter estimation
Joint Communications and Sensing provides valuable information and knowledge to researchers and engineers in the communications and radar sensing communities and industries, enabling them to upskill and prepare for JCAS technology research and development. The text is particularly interesting to engineers in the wireless communications industry pursuing new capabilities in 6G.
Joint Communications and Sensing: From Fundamentals to Advanced Techniques PDF
Author(s): J. Andrew Zhang, Yingjie Jay Guo, Kai Wu
Publisher: Wiley-IEEE Press, Year: 2022
ISBN: 111998291X,9781119982913
Related More Books
See More POST On : Communication Books