| | |
| --- | --- |
| Book Name: | IP multicast with applications to IPTV and mobile DVB-H |
| Category: | Telecommunication Books |
| Free Download: | Available |
IP multicast with applications to IPTV and mobile DVB-H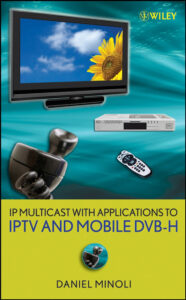 Book Description:
Get a clear picture of IP Multicast applications for delivering commercial high-quality video services
This book provides a concise guide to current IP Multicast technology and its applications, focusing on IP-based Television (IPTV) and Digital Video Broadcast-Handheld (DVB-H) applications—areas of tremendous commercial interest. Traditional phone companies can use IP Multicast technology to deliver video services over their networks; cell phone companies can stream video to handheld phones and PDAs, and many cable TV companies are considering upgrading to IP technology. In addition to applications in industries seeking to provide high-quality digital video and audio, there are numerous other practical uses: multi-site corporate videoconferencing; broad distribution of financial data, stock quotes, and news bulletins; database replication; software distribution; and content caching (for example, Web site caching).
After an introduction that gets readers up to speed on the basics, IP Multicast with Applications to IPTV and Mobile DVB-H:
• Discusses multicast addressing for payload and payload forwarding
• Covers routing in a variety of protocols, including PIM-SM, CBT, PIM-DM, DVMRP, and MOSPF
• Discusses multicasting in IPv6 environments and Multicast Listener Discovery (MLD)
• Features examples of IP Multicast applications in the IPTV and mobile DVB-H environments
• Includes reference RFCs and protocols placed in the proper context of a commercial-grade infrastructure for the delivery of robust, entertainment-quality linear and nonlinear video programming
This is a concise, compact reference for practitioners seeking a quick, practical review of the topic, emphasizing the major and most often used aspects of the technology. It is a hands-on resource for engineers in the communications industry or Internet design, content providers, and researchers. It's also an excellent text for college courses on IP Multicast and/or IPTV.
IP multicast with applications to IPTV and mobile DVB-H PDF
Author(s): Daniel Minoli
Publisher: Wiley-IEEE Press, Year: 2008
ISBN: 0470258152,9780470258156
Related More Books