| | |
| --- | --- |
| Book Name: | Integration of Unmanned Aerial Vehicles in Wireless Communication and Networks |
| Category: | Telecommunication Books |
| Free Download: | Available |
Free PDF Download Integration of Unmanned Aerial Vehicles in Wireless Communication and Networks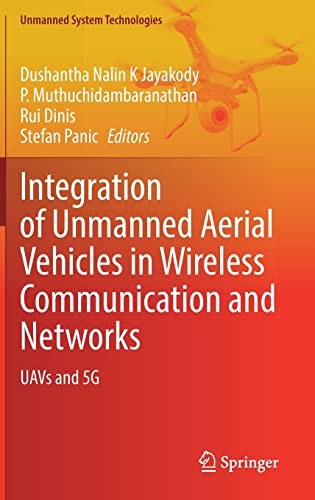 Book Description:
This book presents a comprehensive overview of Unmanned Arial Vehicles (UAV) and their integration of wireless communications and networks, including inherent challenges and open access concerns. The authors present the latest technologies associated with UAV-assisted wireless communications and networks by linking their association with 5G Wireless Networks. The authors include the positioning of UAVs, the coagulation attacks of UAVs, and the green perspective of UAV communication systems. The book explains how the UAV can be integrated with 5G wireless schemes such as ultra-reliable, low-density communications, full duplex, and non-orthogonal multiple access (NOMA) for 5G. This book targets graduate students, researchers, and industry personnel.
Springer's Unmanned System Technologies (UST) book series publishes the latest
developments in unmanned vehicles and platforms in a timely manner, with the
highest of quality, and written and edited by leaders in the field. The aim is to
provide an effective platform to global researchers in the field to exchange their
research findings and ideas. The series covers all the main branches of unmanned
systems and technologies, both theoretical and applied, including but not limited to:
• Unmanned aerial vehicles, unmanned ground vehicles and unmanned ships, and
all unmanned systems related research in:
• Robotics Design
• Artificial Intelligence
• Guidance, Navigation and Control
• Signal Processing
• Circuit and Systems
• Mechatronics
• Big Data
• Intelligent Computing and Communication
• Advanced Materials and Engineering
The publication types of the series are monographs, professional books, graduate
textbooks, and edited volumes.
Book Contents
1 Channel Tracking and Equalization for UAV Communications…. 1
Pedro Pedrosa, Rui Dinis, Daniel Castanheira, Adão Silva, and Atílio Gameiro
2 Transmission Techniques for UAVs ……….. 27
João Guerreiro and Rui Dinis
3 Self-energising of Full-Duplex UAV-Assisted Wireless Networks……. 39
Anandpushparaj Jeganathan, Gupta Mitali, Dushantha Nalin K Jayakody, and P. Muthuchidambaranathan
4 UAV-Assisted Wireless Power Sensor Networks………… 61
Stefan Panic and Caslav Stefanovic
5 Reliable Capacity of A2G Drone Communications Using 5G NR …… 79
Marco Corrente, Ricardo Sacoto-Martins, Luis Bernardo, Rui Dinis, Rodolfo Oliveira, Paulo Pinto, and Luis Campos
6 Application of UAV for a Disaster-Resilient System……….. 105
Hassaan Hydher and Dushantha Nalin K Jayakody
7 Analysis of Age of Information in Wireless Communication Networks……… 127
Tharindu D. Ponnimbaduge Perera and Dushantha Nalin K Jayakody
Index …….. 153
Integration of Unmanned Aerial Vehicles in Wireless Communication and Networks: UAVs and 5G PDF
Author(s): Dushantha Nalin K Jayakody, P. Muthuchidambaranathan, Rui Dinis, Stefan Panic
Series: Unmanned System Technologies
Publisher: Springer, Year: 2022
ISBN: 3031038797,9783031038792
Related More Books