| | |
| --- | --- |
| Book Name: | Inferno: Dante's Guide To Hell |
| Author: | Acheron Games |
| Category: | A Special Books |
| Language: | English |
| Format: | PDF |
| Free Download: | Available |
Free Download Inferno: Dante's Guide To Hell PDF Book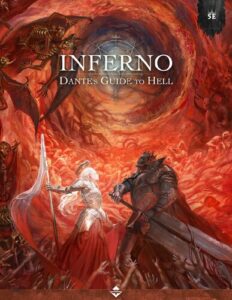 Book Description: 
Inferno is the first original 5th edition Campaign Setting adapting Dante Alighieri's "The Divine Comedy" into a tabletop roleplaying game.
Inferno – Dante's Guide to Hell is the game's "Player's Handbook", and it focuses on the Lost Ones, living beings forced to enter Hell, including 12 brand-new Archetypes with a 1-20 level progression, setting specific rules, and a deep description of the Inferno itself.
All hope abandon, ye who enter in!
Inferno: Dante's Guide To Hell PDF
Series: Inferno
Publisher: DriveThruRPG, Year: 2021
Related More Books
See More POST On : A Special Books