| | |
| --- | --- |
| Book Name: | How to Write Effective Business English by Fiona Talbot |
| Language: | English |
| Format: | PDF |
| Free Download: | Available |
Free Download How to Write Effective Business English by Fiona Talbot PDF Book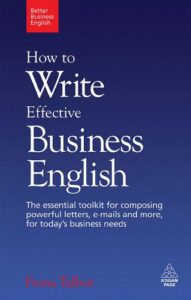 How to Write Effective Business English The essential toolkit for composing powerful letters, e-mails, and more, for today's business needs by Fiona Talbot | PDF Free Download.
Write Effective Business English Contents
---
Why you need to write

Defining business English

Writing English for global business

Business writing for today

Quality matters

Punctuation and grammar tips

Writing tips for everyday business

Common confusions and how to avoid them

E-mail

Letter writing
Preface to How to Write Effective Business English PDF
---
How this series works – and what it is about
There are three books in the series, designed to improve your confidence and competence in writing English for global business.
They are designed on three levels, to fit in with the three stages in the business cycle. My central philosophy is this: writing business English effectively for international trade is about creating clear, concise messages and avoiding verbosity.
But the fewer words you write, the more important it is that you get them right.
Book 1: How to Write Effective Business English
This book assumes that you know English to an intermediate level and provides effective guidelines.
It deals with real-life scenarios, to give you answers that even your boss may not know. It uses a system that also gives you the building blocks to take you to the next level in the cycle of success, set out in Book 2.
Book 2: Make an Impact with your Written English
This book will take you a further step forward in your executive career. You will learn how to use written word power to promote and sell your messages and 'brand you'.
You will learn how to make your mark writing English, whether for PR, presentations, reports, meeting notes, manuals, etc.
And for cyberspace, where English is today's predominant language. You will learn how to deal with pressing challenges you need to know about. And how to write English that impresses, so that you get noticed for the right reasons.
Book 3: Executive Writing Skills for Managers
This book deals with the English business writing you need at the top of your career and focuses on writing as a key business tool.
It gives amazingly valuable tips on harmonizing the English that you and your teams use (for example, for evaluation performance) tips that you quite simply have not seen before.
It also introduces the concept of Word Power Skills 2.0 for unified English business writing that keeps everyone in the loop.
The importance of business English today
Increasingly, the English language is the language of choice used in multinational gatherings. It may not be the predominant language of the group, but is the most likely to be understood by the majority – at least at a basic level – so becomes a powerful tool for communication and inclusion.
How to Write Effective Business English: The Essential Toolkit for Composing Powerful Letters, E-Mails and More, for Today's Business Needs (Better Business English) 
Author(s): Fiona Talbot
Year: 2009
ISBN: 0749455209,9780749455200
Download How to Write Effective Business English by Fiona Talbot in PDF Format For Free. 
Related More Books
See More POST On : Engineering Books