| | |
| --- | --- |
| Book Name: | How to be Good at Maths PDF |
| Language: | English |
| Format: | PDF |
| Free Download: | Available |
How to be Good at Maths by Peter Clarke, Caroline Clissold, and Cherri Moseley | PDF Free Download. 
---
Book Details :
Language
English
Pages
322
Format
PDF
Size
43.3 MB
---
How to be Good at Maths PDF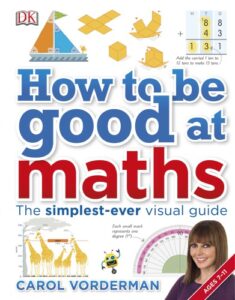 How to be Good at Maths Contents
---
Numbers

Calculating

Measurement

Geometry

Statistics

Algebra
Foreword to How to be Good at Maths PDF
---
Our lives wouldn't be the same without maths. In fact, everything would stop without it. Without numbers we couldn't count a thing, there would be no money, no system of measuring, no shops, no roads, no hospitals, no buildings, no … well, more or less "nothing" as we know it.
For example, without maths, we couldn't build houses, forecast tomorrow's weather, or fly a plane. We definitely couldn't send an astronaut into space! If we didn't understand the numbers, we wouldn't have TV, the internet, or smartphones.
In fact, without numbers, you wouldn't even be reading this book, because it was created on a computer that uses a special number code based on 0s and 1s to store information and make thousands of calculations in a second.
Understanding maths also helps us to understand the world around us. Why do bees make their honeycombs out of hexagons? How can we describe the spiral shape formed by a seashell? Maths holds the answers to these questions and many more.
This book has been written to help you get better at maths, and to learn to love it. You can work through it with the help of an adult, but you can also use it on your own.
The numbered steps will talk you through the examples. There are also problems for you to solve yourself. You'll meet some helpful robots, too.
They'll give you handy tips and remind you of important mathematical ideas. Maths is not a subject, it's a language and a universal language. To be able to speak it gives you great power and confidence and a sense of wonder.
Book Description: 
PLEASE NOTE – this is a replica of the print book and you will need paper and a pencil to complete the exercises.

Help your child master Upper Key Stage 2 Maths and be top of their class!
Whether you're good at maths or not, it's essential to understand. Luckily, you don't have to be a maths genius to follow along with this fully illustrated home-study guide!
Get inspired by numbers and see how mathematical explanations come to life with this engaging maths book for kids! It includes:
– Full colour content in line with the National Curriculum, suitable for children ages 9-11
– Clear instructions that are easy for children to follow by themselves
– Answers that are given at the back of the book
– Practice questions and practical exercises to help expand your child's knowledge of the subject
Packed with eye-catching illustrations and easy-to-follow instructions, How to be Good at Maths Workbook 2 continues to keep maths simple and easy to understand for kids! This brilliant visual maths workbook teaches them everything they need to know about maths. Ideal for reinforcing classroom teaching, it helps kids understand what they've learned in school and gives them extra maths revision practice before an important test!
Perfect for children aged 9-11, this colourful maths practice book covers all the key areas of the school curriculum for this level. It includes working with fractions and decimal numbers, percentages, long multiplication and division, measurement, geometry, coordinates, statistics, probability, and basic algebra. And there are answers at the back to check that you're on the right path.
This engaging and clear workbook accompanies How to be Good at Maths Workbook 1 which covers ages 7-9 (Lower Key Stage 2 Maths).
DK's successful How to be Good at… workbook series provides your child with the tools to learn how to look at the world around them and figure out how it works. There are more books to discover! Learn all about the influence of science and technology in the modern age with How to Be Good at Science, Technology, and Engineering.
Download How to be Good at Maths in PDF Format For Free. 
How to be good at maths PDF 
Author(s): Clarke, Peter;Clissold, Caroline;Moseley, Cherri
Publisher: Dk, Year: 2017
ISBN: 9780241185988
How to be Good at Maths Workbook 2, Ages 9-11 (Key Stage 2): The Simplest-Ever Visual Workbook PDF 
Author(s): Carol Vorderman
Publisher: DK Children, Year: 2021
ISBN: 9780241507209
Related More Books
See More POST On : Engineering Books