| | |
| --- | --- |
| Book Name: | Heidegger Among the Sculptors: Body, Space, and the Art of Dwelling |
| Category: | Engineering Books |
| Free Download: | Available |
Heidegger Among the Sculptors: Body, Space, and the Art of Dwelling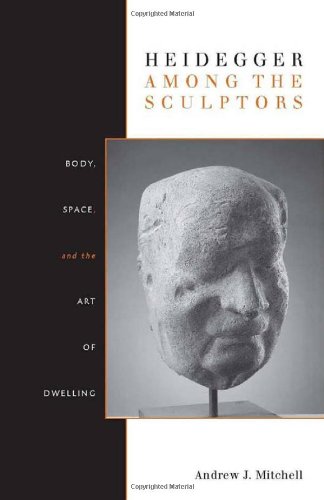 Table of contents :
Contents……Page 8
List of Illustrations……Page 10
Acknowledgments……Page 14
List of Abbreviations……Page 16
Introduction: A Material Space of Radiance……Page 22
1. Ernst Barlach: Materiality and Production……Page 41
2. Bernhard Heiliger: The Erosion of Being……Page 57
3. Excursus on the Goddess Athena……Page 79
4. Eduardo Chillida: The Art of Dwelling……Page 87
Conclusion: The Taste of Us……Page 113
Notes……Page 124
Bibliography……Page 138
Book Description:
In the 1950s and 60s, Martin Heidegger turned to sculpture to rethink the relationship between bodies and space and the role of art in our lives. In his texts on the subject—a catalog contribution for an Ernst Barlach exhibition, a speech at a gallery opening for Bernhard Heiliger, a lecture on bas-relief depictions of Athena, and a collaboration with Eduardo Chillida—he formulates his later aesthetic theory, thinking of relationality. Against a traditional view of space as an empty container for discrete bodies, these writings understand the body as already beyond itself in a world of relations and conceive of space as a material medium of relational contact. The sculpture shows us how we belong to the world, a world amid a technological process of uprooting and homelessness. Heidegger suggests how we can still find room to dwell therein. Filled with illustrations of works that Heidegger encountered or considered, Heidegger Among the Sculptors makes a singular contribution to the philosophy of sculpture.
Heidegger Among the Sculptors: Body, Space, and the Art of Dwelling
Author(s): Andrew Mitchell
Publisher: Stanford University Press, Year: 2010
ISBN: 9780804770224
Related More Books
See More POST On : Engineering Books