| | |
| --- | --- |
| Book Name: | Handbook of Force Transducers: Principles and Components |
| Category: | Mechatronic Book |
| Free Download: | Available |
Free PDF Download Handbook of Force Transducers: Principles and Components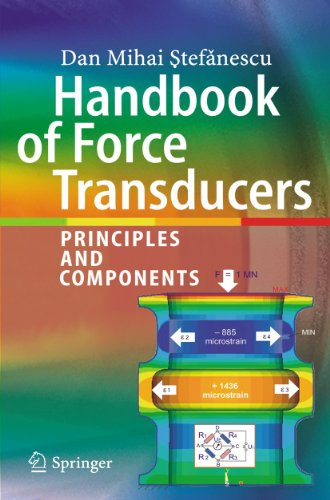 Book Description:
Part I introduces the basic "Principles and Methods of Force Measurement" according to a classification into a dozen of force transducers types: resistive, inductive, capacitive, piezoelectric, electromagnetic, electrodynamic, magnetoelastic, galvanomagnetic (Hall-effect), vibrating wires, (micro)resonators, acoustic and gyroscopic. Two special chapters refer to force balance techniques and to combined methods in force measurement.
Part II discusses the "(Strain Gauge) Force Transducers Components", evolving from the classical force transducer to the digital/intelligent one, with the incorporation of three subsystems (sensors, electromechanical, and informatics). The elastic element (EE) is the "heart" of the force transducer and basically determines its performance. A 12-type elastic element classification is proposed (stretched/compressed column or tube, bending beam, bending and/or torsion shaft, middle bent bar with fixed ends, shear beam, bending ring, yoke or frame, diaphragm, axial-stressed torus, axisymmetrical and voluminous EE), with emphasis on the optimum location of the strain gauges. The main properties of the associated Wheatstone bridge, best suited for the parametrical transducers, are examined, together with the appropriate electronic circuits for SGFTs.
The handbook fills a gap in the field of Force Measurement, both experts and newcomers, no matter of their particular interest, finding a lot of useful and valuable subjects in the area of Force Transducers; in fact, it is the first specialized monograph in this inter- and multidisciplinary field.
Table of contents :
Introduction to Force Measurement….Pages 3-22
Electrical Methods of Force Measurement….Pages 23-48
Resistive Force Transducers….Pages 49-72
Inductive Force Transducers….Pages 73-86
Capacitive Force Transducers….Pages 87-108
Piezoelectric Force Transducers (PZFTs)….Pages 109-130
Electromagnetic Force Transducers….Pages 131-152
Electrodynamic Force Transducers….Pages 153-164
Magnetoelastic Force Transducers….Pages 165-184
Galvanomagnetic Force Transducers….Pages 185-202
Vibrating-wire Force Transducers….Pages 203-226
Resonator Force Transducers….Pages 227-250
Acoustic Force Transducers….Pages 251-274
Gyroscopic Force Transducers….Pages 275-292
Force Balance Techniques….Pages 293-306
Mixed Methods in Force Measurements….Pages 307-328
Front Matter….Pages 329-329
The Force Measurement Chain….Pages 331-346
Wheatstone Bridge – The Basic Circuit for Strain Gauge Force Transducers….Pages 347-360
Strain Gauges Electronic Circuits….Pages 361-374
Classification of Elastic Elements….Pages 375-388
Front Matter….Pages 329-329
Stretched / Compressed Columns….Pages 389-398
Stretched / Compressed Tubes….Pages 399-413
Bent Lamella (Cantilever Beams)….Pages 415-436
Bent and/or Torsion Shafts….Pages 437-444
Middle Bent Bars With Fixed Ends….Pages 445-456
Shearing Strained Elastic Elements….Pages 457-468
Bent Yokes and Frames….Pages 469-476
Bent Rings and "Glasses"….Pages 477-493
Bent Membranes….Pages 495-516
Complex Loaded Torus….Pages 517-522
Axisymmetric Elastic Elements….Pages 523-538
Volumetric Elastic Elements….Pages 539-548
Complex, Composed and Combined Elastic Structures….Pages 549-562
Elastic Elements Selection Criteria….Pages 563-576
Digital and Intelligent Force Transducers….Pages 577-590
Handbook of Force Transducers: Principles and Components PDF
Author(s): Dan Mihai Ştefănescu (auth.)
Publisher: Springer-Verlag Berlin Heidelberg, Year: 2011
ISBN: 364218295X,9783642182952
Related More Books