| | |
| --- | --- |
| Book Name: | Greek Passion By Nikos Kazantzakis |
| Category: | A Special Books |
| Language: | English |
| Format: | PDF |
| Free Download: | Available |
Free Download Greek Passion PDF Book By Nikos Kazantzakis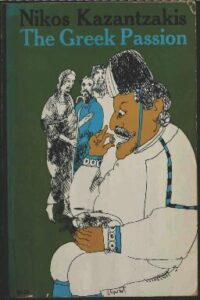 Book Description:
The Greek elders of Lycovrissi gather to select principals from the village for the Passion Play, given every seven years at Easter. Among the various villagers, Manolios, the meek shepherd, is chosen to play Christ, and Katerina, a widow who had closed herself off to men after the death of her husband, is determined to play Mary Magdalen. As this passionate story of savage emotions and primitive religious feeling evolves, the actors begin to change according to their roles in the biblical narrative. When the Turkish Agha finds his favorite dead in bed, he arrests the village elders and threatens to hang one a day until the murderer is discovered. Manolios believes he must offer himself as a sacrifice because of a strange dream and confesses to the slaying.
About the author
Works, including the novel Zorba the Greek (1946) and the epic poem The Odyssey: A Modern Sequel (1938) by Greek writer Nikos Kazantzakis, often contrast human nature's sensual and intellectual facets.
This prolific man, named Νίκος Καζαντζάκης in Greek, also authored essays, tragedies, travel books, and translations of such classics as The Divine Comedy of Dante Alighieri and Faust of Johann Wolfgang von Goethe.
Like Odysseus the hero, Kazantzakis lived most of his artistic life except during World War II outside Greece. "I am a mariner of Odysseus with a heart of fire but with mind ruthless and clear," Kazantzakis wrote in Toda Raba (1934).
In several of the novels of, the author deal with the history and culture of his own country and the mystical relationship between man and God. In 1957, a single vote lost him the Nobel Prize to the French writer Albert Camus.
Download Greek Passion PDF
Author(s): Nikos Kazantzakis
Publisher: Simon & Schuster, Year: 1959
ISBN: 0671212168,9780671212162
Related More Books
See More POST On : A Special Books