| | |
| --- | --- |
| Book Name: | Geometric Design of Roads Handbook PDF |
| Author: | Keith M. Wolhuter |
| Category: | Civil Engineering Books |
| Language: | English |
| Format: | PDF |
| Free Download: | Available |
Free Download Geometric Design of Roads Handbook PDF Book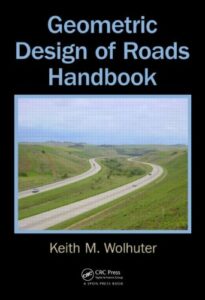 Book Description:
Learn about the science and art of geometric design.
The Geometric Design of Roads Handbook covers the road's visible parts, such as its horizontal and vertical alignments, cross-sections, intersections, and interchanges. When people follow the rules, traffic flows smoothly and safely, and it's easy to keep things in good shape. A lot is said about geometric design. Statistics, traffic flow theory, economic and utility analysis, systems analysis, hydraulics and drainage, capacity analysis, coordinate calculation, environmental issues, and public transportation are also covered in the book.
Background information for designers in the field
One important rule is to focus on what the driver wants to do instead of what the car can do. The book takes a human factors approach to design and uses the "self-explanatory road" as an example. It also discusses how vital design consistency is and how to measure it. It also discusses the design domain context, the extended design domain concept, and the design exception. The book isn't just an engineering guide; it also looks at context-sensitive design.
Find and create solutions that work in the real world
In the last few years, there have been a lot of big changes in geometric design. This is the first book to put all of these changes into a practical guide that gives road and highway designers, as well as students, a proper philosophy of design.
This article:
The basics of geometric design are covered.
Looks at the most important parts of the multimodal design. Deals with drainage and
environmental problems.
Looks at practical rules, procedures, and standards
Gives more suggestions for further reading.
The Geometric Design of Roads Handbook is a practical guide for graduate students taking courses in geometric design, traffic operations/capacity analysis, and public transportation. It takes a new approach that considers the human factor in the design process and includes relevant ideas that can help readers create and implement safe and efficient designs.
Download Geometric Design of Roads Handbook PDF 
Author(s): Keith M. Wolhuter
Publisher: CRC Press, Year: 2015
ISBN: 0415521726,9780415521727
Related More Books