| | |
| --- | --- |
| Book Name: | From Here to Eternity by James Jones |
| Category: | A Special Books |
| Free Download: | Available |
Free epub Download From Here to Eternity Book by James Jones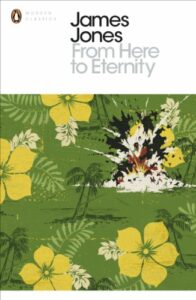 From Here to Eternity: Diamond Head, Hawaii, 1941. Pvt. Robert E. Lee Prewitt is a champion welterweight and a fine bugler. But when he refuses to join the company's boxing team, he gets "the treatment" that may break him or kill him. First, Sgt. Milton Anthony Warden knows how to soldier better than almost anyone, yet he's risking his career to have an affair with the commanding officer's wife. Both Warden and Prewitt are bound by a common bond: the Army is their heart and blood . . .and, possibly, their death. In this magnificent but brutal classic of a soldier's life, James Jones portrays the courage, violence and passions of men and women who live by unspoken codes and with unutterable despair. . .in the most important American novel to come out of World War II, a masterpiece that captures as no ther the honor and savagery of men.
Book Description:
'I'll never understand the fucking Army.'
Prew won't conform. He could have been the best boxer and the best bugler in his division, but he chooses the life of a straight soldier in Hawaii under the fierce tutelage of Sergeant Milt Warden. When he refuses to box for his company for mysterious reasons, he is given 'The Treatment', a relentless campaign of physical and mental abuse. Meanwhile, Warden wages his own campaign against authority by seducing the Captain's wife Karen – just because he can. Both men are bound to the Army, even though it may destroy them.
Published here in its uncensored, original version, From Here to Eternity is a raw, electrifying account of the soldier's life in the months leading up to Pearl Harbor-of men who are trained to fight the enemy but cannot resist fighting each other.
Book Contents
Book One – The Transfer
Book Two – The Company
Book Three – The Women
Book Four – The Stockade
Book Five – The Re-enlistment Blues
Afterword
Acknowledgment
ABOUT THE AUTHOR
James Jones (1921–77) was born in Robinson, Illinois, and enlisted in the US Army in 1939, serving in the 25th Infantry Division in Hawaii during Pearl Harbor and later in Guadalcanal in the Pacific, where he was wounded in action. He drew on his wartime experiences in his many acclaimed novels, including the National Book Award-winner From Here to Eternity and The Thin Red Line.
FROM HERE TO ETERNITY
'Certain places seem to exist mainly because someone has written about them. Kilimanjaro belongs to Ernest Hemingway. Oxford, Mississippi, belongs to William Faulkner … A place belongs forever to whoever claims it hardest, remembers it most obsessively, wrenches it from itself, shapes it, renders it, loves it so radically that he remakes it in his image, and not only Schofield Barracks but a great deal of Honolulu will always belong for me to James Jones' Joan Didion
'The best American novel since the war' Norman Mailer
'Ferocious … the most realistic and forceful novel I've read about life in the army' New Yorker
'Extraordinary and utterly irresistible … a compelling and compassionate story' Los Angeles Times
'A powerful and brutally shocking story … it is impossible to ignore the dynamic punch in Jones' writing' The New York Times
'Crammed with masterly scenes from life. Always you feel that he knows what he's talking about, whether it's the savagery of the Stockade, life in a rough whorehouse, the anguish of love … America's strongest chronicler of war, a writer of deep sympathies and a large humanity' Robert Gottlieb, The New York Review of Books
'One of the great books of our time' Newsday
'The achievement of an exceptional novelist … Filled with a wide range of human emotions, with humour and nobility, with rage and love, with savagery and tenderness' New York Herald Tribune
'Magnificent … ruthlessly honest … it is his communication of the brotherhood of man and man's inhumanity to man that brings the novel close to greatness' Washington Post
This book is a work of fiction. The Characters are imaginary, and any resemblance to actual persons is accidental. However, certain of the Stockade scenes did happen. They did not happen at the Schofield Barracks Post Stockade but at a Post within the United States at which the author served, and they are true scenes of which the author had first-hand knowledge and personal experience.
Robinson, Illinois
February 27, 1950
From Here to Eternity (Penguin Modern Classics)
Author(s): James Jones
Publisher: Penguin Classics, Year: 5 Sept 2013
ISBN: 9780141393223,978-0141393223
Related More Books
See More POST On : A Special Books