| | |
| --- | --- |
| Book Name: | Free Enterprise: A Novel of Mary Ellen Pleasant |
| Author: | Michelle Cliff |
| Category: | A Special Books |
| Language: | English |
| Format: | PDF |
| Free Download: | Available |
Free Enterprise: A Novel of Mary Ellen Pleasant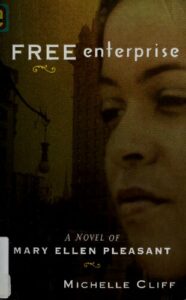 Book Description:
«The axe is laid at the foot of the tree. When the first blow is struck, there will be more money to help.» — M.E.P.
This message was found on John Brown's body following his ill-fated raid on Harpers Ferry. History books do not record the contribution of his mysterious collaborator, "M.E.P.," but in Free Enterprise, acclaimed novelist Michelle Cliff tells the remarkable story of frontier legend Mary Ellen Pleasant.
In 1858, two black women met at a restaurant and began to plot a revolution. Mary Ellen Pleasant owns a string of hotels in San Francisco that cater to wealthy whites and secretly double as havens for runaway slaves. Her comrade, Annie, is a young Jamaican who has given up her life of privilege to fight for the abolitionist cause. Together they join John Brown's doomed enterprise and barely escape with their lives.
Free Enterprise: A Novel of Mary Ellen Pleasant
Publisher: City Lights, Year: 2004
ISBN: 0872864375,9780872864375
Related More Books
See More POST On : A Special Books