| | |
| --- | --- |
| Book Name: | Free as in Freedom: Richard Stallman's Crusade for Free Software |
| Category: | Software Engineering |
| Free Download: | Available |
Free as in Freedom: Richard Stallman's Crusade for Free Software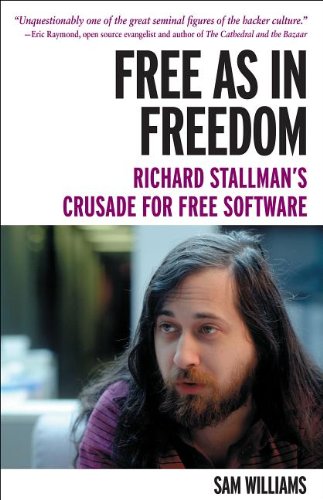 Book Description:
As Richard Stallman, the man behind the GNU project is profiled in Freedom along with the political, social, and economic history of the free software movement, It looks at Stallman's distinctive personality and how it has alternately served as the movement's driving force and a liability.
The book Free as in Freedom explores one man's 20-year effort to communicate and codify the values of the "hacking" culture of the 1970s to enable future generations to readily share and expand upon the knowledge of their computing ancestors. The book looks at how Stallman's personal growth as a teenager who didn't fit in, an adult hacker with a clear vision, and a political leader has affected the free software movement. Richard Stallman has taken on the position of tribal elder within the hacking community, which describes itself as anarchic and opposed to centralized leadership or authority, much like Alan Greenspan did in the banking sector. What caused this paradox to exist? Freedom, as in Liberty, provides a solution. It also looks at how recent changes in the software industry, both good and bad, have changed Stallman's leadership role.
Last, Stallman and the free software movement are examined historically in Free as in Freedom. Will Stallman be viewed as a genius or a nut by future generations? The reader's current position in the free software debate and their vision of the future both play a role in answering that question. Will Richard Stallman's unique vision of freedom still make sense in 100 years, when words like "computer," "operating system," and maybe even "software" seem hopelessly dated? Or will it have joined other utopian ideas on the "ash-heap of history"?
Free as in Freedom: Richard Stallman's Crusade for Free Software
Author(s): Sam Williams
Publisher: O'Reilly Media, Year: 2002
ISBN: 0596002874,9780596002879
Free as in Freedom PDF Free Download
Related More Books