| | |
| --- | --- |
| Book Name: | Fangs |
| Author: | Sarah Andersen |
| Category: | A Special Books |
| Language: | English |
| Format: | PDF |
| Free Download: | Available |
Free Download Fangs PDF Book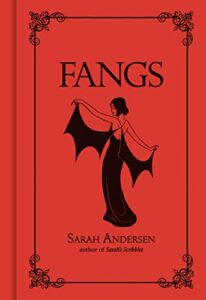 Book Description:
A New York Times bestselling love story between a vampire and a werewolf by the creator of the enormously popular Sarah's Scribbles comics.
Elsie, the vampire, is three hundred years old, but she has never met her match in all that time. This all changes one night in a bar when she meets Jimmy, a charming werewolf with a wry sense of humor and a fondness for running wild during the full moon. Together they enjoy horror films and scary novels, shady strolls, fine dining (though never with garlic), and a genuine fondness for each other's unusual habits, macabre lifestyles, and monstrous appetites.
First featured as a webcomic series on Tapas, Fangs chronicles the humor, sweetness, and awkwardness of meeting someone perfectly suited to you but also vastly different. This deluxe hardcover edition of Fangs features an "engraved" red cloth cover, dyed black page trim, and 25 exclusive comics not previously seen online. Filled with Sarah Andersen's beautiful gothic illustrations and relatable relationship humor, Fangs has all the makings of a cult classic.
About the Author
Sarah Andersen is a cartoonist and illustrator from New England. She is the author of the award-winning series Sarah's Scribbles, which has earned her three consecutive Goodreads Choice Awards. Her semi-autobiographical comics chronicle the continual struggles of waking up in the morning, being productive, dealing with social awkwardness, technology, and her beloved pets. With author Andy Weir, she also illustrated the graphic novel Cheshire Crossing, a mashup of the Wizard of Oz, Peter Pan, and Alice in Wonderland. Her gothic romance, Fangs, began running online in 2020 as a serial comic strip on Tapas and will be published later this year in hardcover form. She graduated from the Maryland Institute College of Art in 2014 and currently lives in Montreal.
Fangs PDF
Publisher: Andrews McMeel Publishing, Year: 2020
ISBN: 1524860670,9781524860677
Related More Books
See More POST On : A Special Books