| | |
| --- | --- |
| Book Name: | Evolutionary Dynamics of Complex Communications Networks |
| Category: | Telecommunication Books |
| Free Download: | Available |
Evolutionary Dynamics of Complex Communications Networks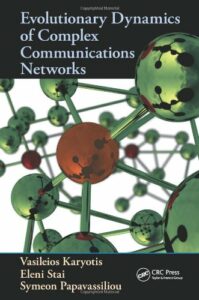 Book Description:
Until recently, most network design techniques employed a bottom-up approach with lower protocol layer mechanisms affecting the development of higher ones. This approach, however, has not yielded fascinating results in the case of wireless distributed networks.
Addressing the emerging aspects of modern network analysis and design, Evolutionary Dynamics of Complex Communications Networks introduces and develops a top-bottom approach where elements of the higher layer can be exploited in modifying the lowest physical topology—closing the network design loop in an evolutionary fashion similar to that observed in natural processes.
This book provides a complete overview of contemporary design approaches from the viewpoint of network science and complex/social network analysis. A significant part of the text focuses on classifying and analyzing various network modification mechanisms for decentralized wireless networks that exploit social features from relevant online social networks.
Each chapter begins with learning objectives and introductory material and slowly builds to more detailed analysis and advanced concepts. Each chapter also identifies open issues, while by the end of the book, potential research directions are summarized for the more interested researcher or graduate student.
The approach outlined in the book will help network designers and administrators increase the value of their infrastructure without requiring any significant additional investment.
Topics covered include:
Basic network graph models and properties, cognitive methods and evolutionary computing, complex and social network analysis metrics and features, and analysis and development of the distinctive structure and features of complex networks.
Considering all aspects of modern network analysis and design, the text covers the necessary material and background to make it a suitable reference source for graduate students, postdoctoral researchers, and scientists.
Evolutionary Dynamics of Complex Communications Networks PDF
Author(s): Vasileios Karyotis, Eleni Stai, Symeon Papavassiliou
Publisher: CRC Press, Year: 2013
ISBN: 1466518405, 9781466518407
Related More Books