| | |
| --- | --- |
| Book Name: | Enabling Technologies for Next Generation Wireless Communications |
| Category: | Telecommunication Books |
| Free Download: | Available |
Free PDF Download Enabling Technologies for Next Generation Wireless Communications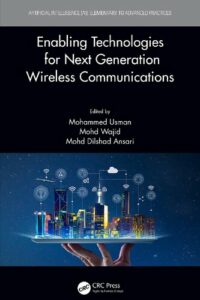 Book Description:
Enabling Technologies for Next Generation Wireless Communications provides up-to-date information on emerging trends in wireless systems, their enabling technologies, and their evolving application paradigms.
This book includes the latest trends and developments toward next-generation wireless communications. It highlights the requirements of next-generation wireless systems, the limitations of existing technologies in delivering those requirements, and the need to develop radical new technologies. It focuses on bringing together information on various technological developments that are enablers vital to fulfilling the requirements of future wireless communication systems and their applications. Topics discussed include spectrum issues, network planning, signal processing, transmitter, receiver, antenna technologies, channel coding, security, and application of machine learning and deep learning for wireless communication systems. The book also provides information on enabling business models for future wireless systems.
This book is useful as a resource for researchers and practitioners worldwide, including industry practitioners, technologists, policy decision-makers, academicians, and graduate students.
Enabling Technologies for Next Generation Wireless Communications PDF
Author(s): Mohammed Usman, Mohd Wajid, Mohd Dilshad Ansari
Series: Artificial Intelligence AI: Elementary to Advanced Practices
Publisher: CRC Press, Year: 2020
ISBN: 0367422492,9780367422493
Related More Books