| | |
| --- | --- |
| Book Name: | Electronics for Radiation Detection by Krzysztof Iniewski |
| Language: | English |
| Format: | PDF |
| Free Download: | Available |
Electronics for Radiation Detection Edited by Krzysztof Iniewski | PDF Free Download. 
---
Book Details :
Language
English
Pages
380
Format
PDF
Size
4.87 MB
---
Electronics for Radiation Detection by Krzysztof Iniewski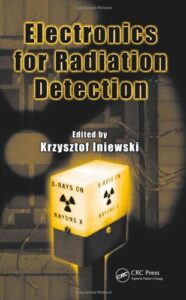 There is a growing need to understand and combat potential radiation damage problems in semiconductor devices and circuits. Assessing the billion-dollar market for detection equipment in the context of medical imaging using ionizing radiation, Electronics for Radiation Detection presents valuable information that will help integrated circuit (IC) designers and other electronics professionals take full advantage of the tremendous developments and opportunities associated with this burgeoning field.
Assembling contributions from industrial and academic experts, this book—
Addresses the state of the art in the design of semiconductor detectors, integrated circuits, and other electronics used in radiation detection
Analyzes the main effects of radiation in semiconductor devices and circuits, paying special attention to degradation observed in MOS devices and circuits when they are irradiated
Explains how circuits are built to deal with radiation, focusing on practical information about how they are being used, rather than mathematical details
Radiation detection is critical in space applications, nuclear physics, semiconductor processing, medical imaging, security, drug development, and modern silicon processing techniques. The authors discuss new opportunities in these fields and address emerging detector technologies, circuit design techniques, new materials, and innovative system approaches.
Aimed at postgraduate researchers and practicing engineers, this book is a must for those serious about improving their understanding of electronics used in radiation detection. The information presented here can help you make optimal use of electronic detection equipment and stimulate further interest in its development, use, and benefits.
Editor of Electronics for Radiation Detection PDF
---
Dr. Krzysztof (Kris) Iniewski manages R&D at Redlen Technologies, Inc., a startup company in British Columbia. He is also an executive director of CMOS Emerging Technologies, Inc. (www.cmoset.com).
His research interests are in hardware design for biomedical and networking applications. From 2004 to 2006, he was an associate professor at the Electrical Engineering and Computer Engineering Department of the University of Alberta where he conducted research on low power wireless circuits and systems.
During his tenure in Edmonton, he put together a book for CRC Press titled Wireless Technologies: Circuits, Systems, and Devices.
From 1995 to 2003, he held various technical and management positions with PMC-Sierra. During his tenure, he led the development of a number of VLSI chips used in optical networks.
Prior to joining PMC-Sierra, from 1990 to 1994, he was an assistant professor at the University of Toronto's Department of Electrical Engineering and Computer Engineering. Dr. Iniewski has published more than 100 research papers in international journals and conferences.
He holds 18 international patents granted in the USA, Canada, France, Germany, and Japan. He received his Ph.D. degree in electronics (honors) from the Warsaw University of Technology, Warsaw, Poland in 1988. Together with Carl McCrosky and Dan Minoli, he is an author of Data Networks–VLSI and Optical Fibre, Wiley, 2008.
He recently edited Medical Imaging Electronics, Wiley, 2009, VLSI Circuits for Bio-medical Applications, Artech House, 2008, Circuits at Nanoscale: Communications, Imaging and Sensing, CRC Press, 2008, and Next Generation Networks, Wiley, 2010. Kris can be reached at [email protected]
Electronics for Radiation Detection Contents
---
The Future of Medical Imaging: Understanding Our True Limitations

Detector Front-End Systems in X-Ray CT: From Current-Mode Readout to Photon Counting

photon-counting Energy-Dispersive Detector Arrays for X-Ray Imaging

Planar and PET Systems for Drug Development

PET Front-End Electronics

Design Considerations for Positron Emission Tomography (PET) Scanners Dedicated to Small-Animal Imaging

Geiger-Mode Avalanche Photodiodes for PET/MRI

Current-Mode Front-End Electronics for Silicon Photomultipliers

Integrated Charge-Measuring Systems for Radiation Detectors in CMOS Technologies

Current- and Charge-Sensitive Signal Conditioning for Position Determination

Analog-to-Digital Converters for Radiation Detection Electronics

Low-Power Integrated Front-End for Timing Applications with Semiconductor Radiation Detectors

Time-to-Digital Converter Circuits in Radiation Detection Systems 
Preface to Electronics for Radiation Detection eBook
---
Historically, humans have had short life spans due to infectious diseases, wars, and natural disasters. Life spans have lengthened considerably in the last century thanks to improvements in hygiene, medicine, and nutrition.
The longer life span has dramatically increased healthcare costs and increased efforts to deal with chronic diseases.
Further progress in medicine and confinement of exploding healthcare costs can be expected only with technological advances, particularly for radiation detectors and front-end electronics.
Those based on ionizing radiation are of primary importance among all imaging modalities. X-ray-based examinations, including mammography, lung imaging, and computed tomography (CT) scans, are used routinely in medical offices worldwide.
Single-photon emission (SPECT) and positron emission tomography (PET) are becoming increasingly popular in nuclear medicine applications in hospitals and large medical practices.
In addition to medical imaging, this book also addresses radiation detection applications in other areas, particularly in the rapidly growing field of security applications.
Luggage scanning, dirty bomb detection, space missions, nuclear plants, and high energy physics experiments are just a few examples of system applications that utilize x-ray and gamma-ray detection.
Despite different principles of operation among those applications, there are numerous commonalities in the signal processing of signals received by radiation detectors: signal amplification, filtering, multiplexing, and analog-to-digital conversion (ADC).
These hardware commonalities among imaging techniques merit the inclusion of all related knowledge and know-how into one publication.
After all, equipment for radiation detection that encompasses x-ray, CT, nuclear medicine (SPECT/PET), and security/military uses is several billion-dollar markets that offer tremendous opportunities to integrated circuit (IC) designers.
Top-notch international experts in industry and academia write the book. The intended audience is practicing engineers with some electronics background. The book might also be used as supplementary material in a graduate course curriculum.
I sincerely hope that this book will help improve the understanding of radiation detection electronics and stimulate further interest in developing and using this equipment to benefit us all.
Download Electronics for Radiation Detection PDF 
Author(s): Krzysztof Iniewski
Series: Devices, Circuits, and Systems
Publisher: CRC Press, Year: 2010
ISBN: 1439816484,9781439816486
Download Electronics for Radiation Detection by Krzysztof Iniewski in PDF Format For Free. 
Related More Books
See More POST On : Engineering Books