[PDF] Microbial Ecology – L. Barton, D. Northup (Wiley, 2011)[PDF] Microbial Ecology – L. Barton, D. Northup (Wiley, 2011)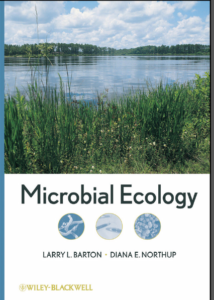 Info:
Book Description:
This book covers the ecological activities of microbes in the biosphere with an emphasis on microbial interactions within their environments and communities
In thirteen concise and timely chapters, Microbial Ecology presents a broad overview of this rapidly growing field, explaining the basic principles in an easy-to-follow manner. Using an integrative approach, it comprehensively covers traditional issues in ecology as well as cutting-edge content at the intersection of ecology, microbiology, environmental science and engineering, and molecular biology.
Examining the microbial characteristics that enable microbes to grow in different environments, the book provides insights into relevant methodologies for characterization of microorganisms in the environment. The authors draw upon their extensive experience in teaching microbiology to address the latest hot-button topics in the field, such as:
Ecology of microorganisms in natural and engineered environments
Advances in molecular-based understanding of microbial phylogeny and interactions
Microbially driven biogeochemical processes and interactions among microbial populations and communities
Microbial activities in extreme or unusual environments
Ecological studies pertaining to animal, plant, and insect microbiology
Microbial processes and interactions associated with environmental pollution
Designed for use in teaching, Microbial Ecology offers numerous special features to aid both students and instructors, including:
Information boxes that highlight key microbial ecology issues
"Microbial Spotlights" that focus on how prominent microbial ecologists became interested in microbial ecology
Examples that illustrate the role of bacterial interaction with humans
Exercises to promote critical thinking
Selected reading lists
Chapter summaries and review questions for class discussion
Various microbial interactions and community structures are presented through examples and illustrations. Also included are mini case studies that address activities of microorganisms in specific environments, as well as a glossary and key words. All these features make this an ideal textbook for graduate or upper-level undergraduate students in biology, microbiology, ecology, or environmental science. It also serves as a highly useful reference for scientists and environmental professionals.
Microbial Ecology 
Author(s): Larry L. Barton, Diana E. Northup
Publisher: Wiley-Blackwell, Year: 2011
ISBN: 0470048174