| | |
| --- | --- |
| Book Name: | [PDF] Design of Machinery by Robert L. Norton |
| Category: | Theory of Machines |
| Language: | English |
| Format: | PDF |
| Free Download: | Available |
Design of Machinery by Robert L. Norton has proven to be a favorite of both students and educators across the globe. It is currently used in over 100 schools in the U.S. and Canada and in English and several other languages worldwide. The book is praised for its friendly writing style, clear exposition of complex topics, attractive appearance, thorough and relevant coverage, emphasis on synthesis and design, and use of computer programs. The foremost goal of the author is to convey the art of the design process and the fundamentals of kinematics and dynamics to prepare students to successfully tackle genuine engineering problems encountered in practice. While both thorough and complete on the topics of analysis, the book also emphasizes the synthesis and design aspects of the subject to a greater degree than any other similar book on the market today. Analytical synthesis of linkages is covered, and cam design is given a more thorough and practical treatment than in any other text. A new chapter covers cam- and servo-driven linkages.  The DVD in this text contains animated models of over 100 examples from the text. Students can open, run, interact, and modify these Working Model simulations. Student editions of seven custom programs for design and analysis of mechanisms: LINKAGES, DYNACAM, ENGINE, and MATRIX, are also on the CD-ROM. Linkage is a new program incorporating the older programs Fourbar, Fivebar, Sixbar, and Slider.  (The programs with the book are limited functionality versions of the professional editions of the same programs available elsewhere on this website.) Also included are many Matlab models for kinematic analysis.  The DVD also contains 18 videos that provide tutorials on the book's subject matter, the use of the programs, and examples of real machinery in action.  Two "Virtual Laboratories" are also provided on video along with lab assignments and actual data from the experiments so that students everywhere can virtually experience the same lab exercises used by the author at WPI.
Design of Machinery by Robert L. Norton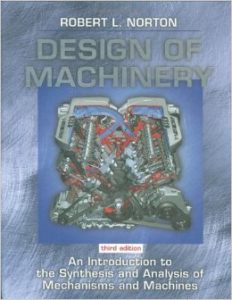 Design of Machinery 5th Edition PDF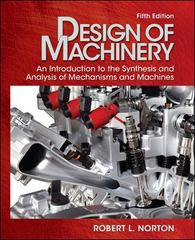 Book Title: Design of Machinery, An Introduction to Synthesis and Analysis of Mechanisms of Machines
Author(s): Robert L. Norton
Publisher: McGraw Hill
Edition: Second
Pages: 924
PDF size: 40.5 MB
Buy PaperBook from Amazon:Design of Machinery with Student Resource DVD
Table of Contents:
Preface
Part I: Kinematics of Mechanisms
Chapter 1: Introduction
Chapter 2: Kinematics fundamentals
Chapter 3: Graphical linkage synthesis
Chapter 4: Position analysis
Chapter 5: Analytical linkage synthesis
Chapter 6: Velocity analysis
Chapter 7: Acceleration analysis
Chapter 8: Cam design
Chapter 9: Gear Trains
Part II:Dynamics of machinery
Chapter 10: Dynamics fundamentals
Chapter 11: Dynamic force analysis
Chapter 12: Balancing
Chapter 13: Engine dynamics
Chapter 14: Multi-cylinder engines
Chapter 15: Cam dynamics
Chapter 16: Engineering design
Appendix A Computer Programs
Appendix B Material Properties
Appendix C Geometric Properties
Appendix D Spring Data
Appendix E Atlas of Geared Fivebar Linkage Coupler Curves
Appendix F Answers to Selected Problems
Index
CD-ROM Index
Design of machinery : an introduction to the synthesis and analysis of mechanisms and machines PDF
Author(s): Robert L. Norton
Series: McGraw-Hill series in mechanical engineering
Year: 2020
ISBN: 9781260113310
Design of Machinery by Robert L. Norton PDF
Solution Manual
Book
Related Results : design of machinery robert l norton pdf,
Related More Books
See More POST On : Engineering Books