| | |
| --- | --- |
| Book Name: | Design, Launch, and Scale IoT Services |
| Category: | Telecommunication Books |
| Free Download: | Available |
Design, Launch, and Scale IoT Services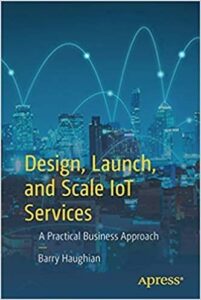 Book Description:
The Internet of Things is causing significant industry disruption, so companies must plan and manage their "IoT journey" to maximize all business opportunities. In this book, companies can learn how to successfully create, launch and manage Internet of Things services.
It takes the reader through the process of specifying, implementing, and deploying IoT services, detailing how to scale and manage an IoT business. It introduces the fundamentals of IoT services, explaining IoT service building blocks and the key factors to be considered in the design of IoT services.
Moving into the IoT field requires speed. This book provides a fast-track approach to IoT, summarizing the global experiences of the author and detailing the discussions, mistakes, successes, learnings, and conclusions. Building an Internet of Things Service enables readers to accelerate their own onboarding in their IoT journey.
What You'll Learn
Create new IoT Services
Review the basic IoT concepts and business implications you need to know as you embark on your IoT journey
Solve the major challenges presented by the IoT disruption.
Accelerate your own onboarding in their IoT journey.
Who This Book Is For
The primary audience is made up of business executives and IoT startups. The secondary audience is students studying IoT in universities and those interested in understanding the fundamentals of an IoT business. No technical background is required.
Table of contents :
Front Matter ….Pages i-xvi
Introduction (Barry Haughian)….Pages 1-9
Creating IoT Services (Barry Haughian)….Pages 11-31
IoT Technology (Barry Haughian)….Pages 33-103
The Service Organization (Barry Haughian)….Pages 105-130
IoT Assets (Barry Haughian)….Pages 131-136
IoT Ecosystems (Barry Haughian)….Pages 137-146
IoT Enablers (Barry Haughian)….Pages 147-162
IoT Industries (Barry Haughian)….Pages 163-183
Business Model (Barry Haughian)….Pages 185-192
The Current and Future Status of the IoT (Barry Haughian)….Pages 193-202
Back Matter ….Pages 203-276
Design, Launch, and Scale IoT Services: A Practical Business Approach PDF
Author(s): Barry Haughian
Publisher: Apress, Year: 2018
ISBN: 978-1-4842-3712-0
Related More Books