| | |
| --- | --- |
| Book Name: | Dark Money By Jane Mayer |
| Category: | Politics Books |
| Language: | English |
| Format: | PDF |
| Free Download: | Available |
Free Download Dark Money By Jane Mayer Book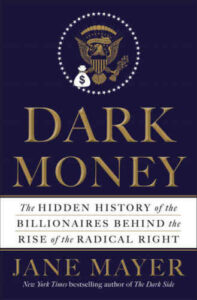 Book Description:
Who are the very rich right-wing ideologues who are deciding what will happen to America today? From the best-selling author of The Dark Side comes an exciting piece of investigative journalism that reveals what this powerful group wants to do.
In her new preface, Jane Mayer discusses the results of the last election and Donald Trump's win. She talks about how, despite what many people say, this was a huge win for the billionaires who have been putting a lot of money into the American political system.
Why is America living in a time when economic inequality is getting worse and worse? Why have even small efforts to stop climate change failed over and over again? Why do hedge fund billionaires pay much less tax than people in the middle class? In a riveting and unforgettable piece of reporting, Jane Mayer tells the story of an elite group of wealthy people, led by the Kochs, the Scaifes, the Olins, and the Bradleys, who have paid for a plan to change the American political system from the ground up. Mayer follows a complicated trail of billions of dollars spent by the network. This shows that they have a huge amount of power over think tanks, academic institutions, media groups, courthouses, and government allies. Mayer uses hundreds of exclusive interviews and a close look at public records, private papers, and court proceedings to create vivid portraits of the secretive people behind the new American oligarchy and a shocking look at the well-hidden plans that are driving the country. Anyone who cares about the future of American democracy needs to read Dark Money.
Table of contents :
The investors
Weaponizing philanthropy: the war of ideas, 1970-2008. Radicals: A Koch family history
The hidden hand: Richard Mellon Scaife
Beachheads: John M. Olin and the Bradley brothers
The Koch method: Free-market mayhem
The Kochtopus: Free-market machine
Secret sponsors: covert operations, 2009-2010. Boots on the ground
Tea time
The fossils
Money is speech: The long road to "Citizens United."
The shellacking: Dark money's midterm debut, 2010
Privatizing politics: total combat, 2011-2014. The spoils: Plundering Congress
Mother of all wars: The 2012 setback
The States: Gaining ground
Selling the new Koch: A better battle plan.
Dark Money: The Hidden History of the Billionaires Behind the Rise of the Radical Right
Author(s): Mayer, Jane
Publisher: Knopf Doubleday Publishing Group, Year: 2016
ISBN: 9780385535595
Election Night 2016: From Dark Money
Summary of Dark Money: by Jane Mayer 
Summary and Analysis of Dark Money: The Hidden History of the Billionaires Behind the Rise of the Radical Right: Based on the Book by Jane Mayer – Worth Books
Related More Books