| | |
| --- | --- |
| Book Name: | Crush It!: Why NOW Is the Time to Cash In on Your Passion |
| Category: | Business Books |
| Language: | English |
| Format: | PDF |
| Free Download: | Available |
Free Download Crush It!: Why NOW Is the Time to Cash In on Your Passion PDF Book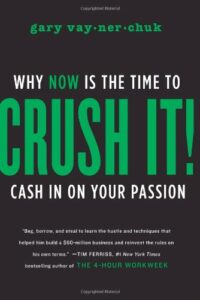 Book Description:
Do you have a hobby you'd like to do all day? You can't sleep because of an obsession? Now is the perfect time to turn your interests into a way to make money. Gary Vaynerchuk shows you how to use the power of the Internet to turn your real interests into real businesses in his book CRUSH IT! Why NOW Is the Time to Cash in on Your Passion. Gary worked hard for many years to turn his family's wine shop into a national leader in its field. Then, one day, he turned on a video camera. Using the secrets in this book, he built his personal brand and changed his whole life and earning potential. By the end of this book, anyone who reads it will know how to use the Internet to turn their business dreams into reality. CRUSH IT! is a step-by-step guide to running a business in the 21st century.
Gary Vaynerchuk's innovative, multifaceted business and personal branding approach has gotten much attention. Gary quickly used social media tools like Twitter and Facebook to promote Wine Library TV, http://tv.winelibrary.com, his video blog about wine. Before, he mostly used traditional advertising to turn his family's local wine store into a national leader. Gary has always been first to market. In 1997, he opened Wine Library's retail website, and in February 2006, he opened Wine Library TV. It would be best if you didn't miss what he says about social media, passion, honesty, and doing business in a way that isn't planned.
Table of contents :
Passion is everything
Success is in your DNA
Build your personal brand
A whole new world
Create great content
Chose your platform
Keep it real
very real
Create community: digging your Internet trench
The best marketing strategy every
Make the world listen
Start monetizing
Roll with it
Legacy is greater than currency
Conclusion: The time is now, the message is forever
Appendix A: Did you forget anything?
Appendix B: I won't let five business ideas to be yours.
Download Crush It! Why Now is the Time to Cash in on your Passion PDF 
Author(s): Gary Vaynerchuk
Publisher: Harper Studio, Year: 2009
ISBN: 0061914177,9780061914171
Related More Books