| | |
| --- | --- |
| Book Name: | Creating your CV as a Self Marketing Tool |
| Category: | A Special Books |
| Free Download: | Available |
Creating your CV as a Self-Marketing Tool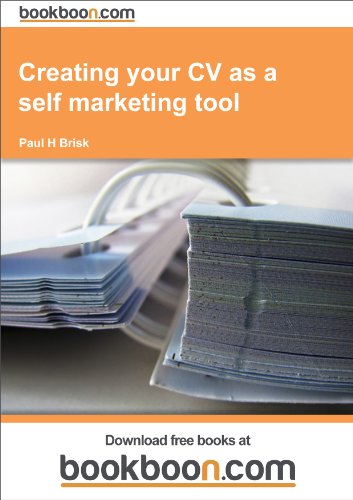 Book Description:
Whether you are just starting your career or are in employment, your job search must have one tool before that journey begins: a professional CV.
Your CV needs a creative and meaningful profile, clearly identifying your achievements and what you have to offer a potential employer through your skills and abilities.
This book uses a structured approach to tackling each key stage to bring your CV together by conducting several self-analysis exercises.
The benefits include increased confidence, self-esteem, and the belief that you will find the job you are looking for.
Download the book now and increase your opportunities of securing that all-important job.
Table of contents :
Cover……Page 1
Creating your CV as a self-marketing tool……Page 2
©……Page 3
Contents……Page 4
1 About the Author……Page 5
2 Introduction……Page 6
3 Types of CV……Page 9
4 Structure of the CV in 5 steps……Page 12
5 Examples of CVs……Page 63
6 Professional CV completed – what next?…… Page 107
Creating your CV as a Self Marketing Tool PDF
Related More Books
See More POST On : A Special Books