| | |
| --- | --- |
| Book Name: | [PDF] Civil Engineer's Handbook of Professional Practice |
| Category: | Civil Engineering Books |
| Language: | English |
| Format: | PDF |
| Free Download: | Available |
Civil Engineer's Handbook of Professional Practice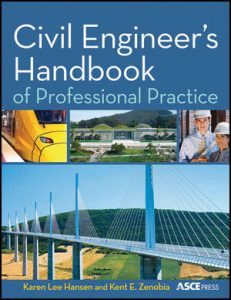 Civil Engineer's Handbook of Professional Practice Book By Karen Lee Hansen, Kent E. Zenobia 
Book Description:
A well-written, hands-on, single-source guide to the professional practice of civil engineering.
More and more people realize that for civil engineers to be competitive on a global scale, they must not only build on their traditional strengths in technology and science but also learn more about the business side of civil engineering. In 2008, the ASCE published a landmark book called Civil Engineering Body of Knowledge for the 21st Century. In it, they said that project management, teamwork, ethics, leadership, and communication are all critical to the successful practice of civil engineering (BOK2). This single-source guide is the first to take the practical skills defined by the ASCE BOK2 and add helpful techniques, quotes, case examples, problems, and information to help the reader deal with the many challenges civil engineers face in the real world.
Civil Engineers Handbook of Professional Practice:
– Focuses on the business and management aspects of a civil engineers job, providing students and practitioners with sound business management principles
– Addresses contemporary issues such as permitting, globalization, sustainability, and emerging technologies
– Offers proven methods for balancing speed, quality, and price with contracting and legal issues in a client-oriented profession
– Includes guidance on juggling career goals, life outside work, compensation, and growth
From the challenge of sustainability to the rigors of problem recognition and solving, this book is an essential tool for those practicing civil engineering.
Book Contents :
Introduction
Background and History of the Profession
Ethics
Professional Engagement
The Engineer's Role in Project Development
What Engineers Deliver
Executing a Professional Commission—Project Management
Permitting
The Client Relationship and Business Development
Leadership
Legal Aspects of Professional Practice
Managing the Civil Engineering Enterprise
Civil Engineer's Handbook of Professional Practice PDF
Author(s): Karen Hansen, Kent Zenobia
Publisher: Wiley, Year: 2011
ISBN: 047043841X,9780470438411
Civil Engineer's Handbook of Professional Practice by Karen Hansen, Kent Zenobia PDF
Related Results : civil engineer's handbook of professional practice,civil engineer's handbook of professional practice free download,civil engineer's handbook of professional practice free pdf,civil engineer's handbook of professional practice pdf,civil engineer's handbook of professional practice pdf download
Related More Books
See More POST On : Engineering Books