| | |
| --- | --- |
| Book Name: | China's Telecommunications Revolution |
| Category: | Telecommunication Books |
| Free Download: | Available |
Free PDF Download China's Telecommunications Revolution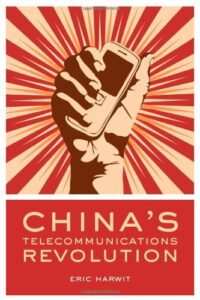 Book Description:
China's telecommunications industry has seen revolutionary transformation and growth over the past three decades. Chinese Internet users number nearly 150 million, and the PRC expects to quickly pass the US in the total number of connected citizens. The number of mobile and fixed-line telephone users soared from a mere 2 million in 1980 to nearly 800 million in 2007. China has been the most successful developing nation in history for spreading telecommunications access at an unparalleled rapid pace.
This book tells how China conducted its remarkable "telecommunications revolution". It examines both corporate and government policy to get citizens connected to both voice and data networks, looks at the potential challenges to the one-party government when citizens get this access, and considers the new opportunities for networking now offered to the people of one of the world's fastest-growing economies.
The book is based on the author's fieldwork in several Chinese cities and extensive archival research. It focuses on key issues such as building and running the country's Internet, mobile phone company rivalry, foreign investment in the sector, and telecommunications in China's vibrant city of Shanghai. It also considers the country's internal "digital divide", and questions how equitable the telecommunications revolution has been. Finally, it examines the ways the PRC's entry into the World Trade Organization will shape the future course of telecommunications growth.
China's Telecommunications Revolution PDF
Author(s): Eric Harwit
Publisher: Oxford University Press, USA, Year: 2008
ISBN: 0199233748,9780199233748
Related More Books