| | |
| --- | --- |
| Book Name: | Building Information Modeling: Framework for Structural Design PDF |
| Category: | Civil Engineering Books |
| Language: | English |
| Format: | PDF |
| Free Download: | Available |
Free Download Building Information Modeling: Framework for Structural Design PDF Book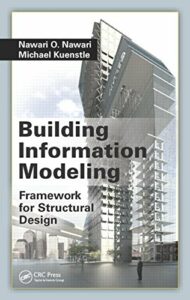 BIM for Architectural Engineering and Structural Engineering
Building Information Modeling: Framework for Structural Design explains one of the most promising trends in architecture, engineering, and construction (AEC). Information modeling (BIM) is a technology for managing and analyzing information that changes how computation is used in the architectural and engineering fields. The new method builds a database by putting together all the objects needed to create a specific structure. BIM doesn't use a computer to create drawings describing the building. Instead, it makes a single drawing that shows the building as a whole. This book is about BIM technology and how it changes how building structures are analyzed and designed.
BIM Helps Build a Framework
This book introduces the structure and architecture synergy framework (SAS framework), which helps people learn and understand the basic principles of architectural analysis using BIM tools. Based on three main parts—the structural melody, the structural poetry, and the structural analysis—and using BIM tools as the frame enabler, this new framework lets users explore structural design as an art while also considering engineering principles. The framework focuses on how structure can affect shapes and how space is ordered and put together. By showing how architecture and construction work together, this book focuses on the conceptual behaviors of structural systems and how they affect how they look. This helps readers understand the art and science of whole structural system concepts.
Shows how BIM technology can be used as part of a design framework or process that can lead to a more complete, innovative, and integrated building design.
It focuses on how BIM technology can be used to investigate the close relationship between structural engineering and architectural design.
Includes a discussion of current and emerging trends in structural engineering practice, as well as the role of the structural engineer in building design using new BIM technologies.
Modeling Building Information: Framework for Structural Design gives an in-depth look at architectural structures and introduces a new framework that changes the way buildings are planned and built.
Download Building Information Modeling: Framework for Structural Design PDF 
Author(s): Nawari O. Nawari, Michael Kuenstle
Publisher: CRC Press, Year: 2015
ISBN: 1482240432,9781482240436
Related More Books