| | |
| --- | --- |
| Book Name: | [PDF] Biotic Stress and Yield Loss by Peterson and Higley |
| Free Download: | Available |
Biotic Stress and Yield Loss by Peterson and Higley :: The idea for this book came to us after we organized a symposium at the 1996 meeting of the North Central Branch of the Entomological Society of America. The symposium was titled Understanding Yield Loss from Insects and its focus was on current knowledge of insect herbivores and their impact on plant fitness and yield loss. When we discussed the idea, we recognized it would be important to cover all biotic stressors (insects, plant pathogens, and weeds) because it is critical to compare and contrast plant responses to all biotic stressors if we are ever going to develop more encompassing understandings of plant stress. The participation of writers from many areas was essential for this project, and we are greatly appreciative of the contributions from our authors for this volume. We also appreciate and thank Marijean Peterson for her editorial reviews and assistance in manuscript preparation. This book is a natural extension of a previous volume, Economic Thresholds for Integrated Pest Management, edited by Higley and Pedigo. Where that book focused on economic decision levels and pest management for insects, plant pathogens, and weeds, this book concentrates on plant physiological, developmental, growth, and yield responses to biotic stress. Most of the chapters discuss biotic stress primarily within an agricultural context. This largely reflects the current state of knowledge for plants and biotic stress. Much more is known about biotic injury and agricultural crops than biotic injury and wild plants within ecosystems. Many of the chapters also discuss plant response and yield loss to insect herbivores. This is partly a reflection of our backgrounds and disciplinary bias, but is also a reflection of the relative richness of entomological research efforts to characterize plant responses to insect injury. This is not to imply that our understandings of biotic stress and plant response are adequate. To our knowledge, this is the first book to cover the topic of biotic stress and yield loss. Although one type of biotic stress—arthropod injury—may be better understood than the others, plant responses to biotic stresses continue to be largely ignored and poorly understood. Indeed, the term plant stress has been synonymous with the abiotic stresses—temperature, moisture, and mineral nutrition stress. We need to elevate our knowledge of biotic stress to the same level as abiotic stress if we are to meaningfully comprehend biotic stress and integrate both abiotic and bioticstress into a general understanding of plant stress.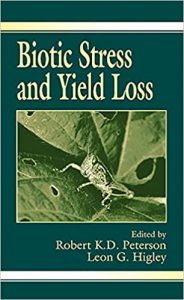 Biotic Stress and Yield Loss by Peterson and Higley
Title:
Biotic Stress and Yield Loss
Editor:
Robert K.D. Peterson,
Leon G. Higley
Edition:
1st
Publisher:
CRC Press
Length:
259 pages
Size:
1.28 MB
Language:
English
Related Results : Biotic Stress and Yield Loss,Biotic Stress and Yield Loss Book,Biotic Stress and Yield Loss pdf,
Related More Books