| | |
| --- | --- |
| Book Name: | BIM Content Development Standards Strategies and Best Practices |
| Language: | English |
| Format: | PDF |
| Free Download: | Available |
BIM Content Development Standards Strategies and Best Practices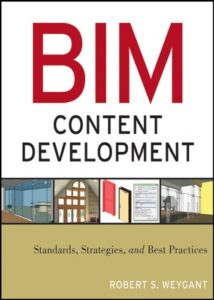 Book Details :
Language
English
Pages
466
Format
PDF
Size
79.2 MB
BIM Content Development Standards, Strategies, and Best Practices by Robert S. Weygant | PDF Free Download.
BIM Content Development Contents
---
PART I Getting Started
CHAPTER 1 The Mental Transition to Building Information Modeling 

CHAPTER 2 Content Hierarchy 

CHAPTER 3 Understanding Parameters, Attributes, and Constraints

CHAPTER 4 Standards and Formats

CHAPTER 5 Where to Begin
PART II BIM Content Basics
CHAPTER 6 Basic Modeling Considerations 

CHAPTER 7 Creation and Management of Materials

CHAPTER 8 CAD Imports and Nonparametric Objects 1

CHAPTER 9 BIM Data: The "I" in BIM 

CHAPTER 10 Quality Control 

CHAPTER 11 Knowledge Management 

CHAPTER 12 BIM Data and Specifications 

CHAPTER 13 Walls 

CHAPTER 14 Roofs 

CHAPTER 15 Floors and Ceilings 

CHAPTER 16 Windows and Skylights 

CHAPTER 17 Doors 

CHAPTER 18 Stairs and Railings 

CHAPTER 19 Curtain Walls and Storefronts 

CHAPTER 20 Fixtures and Fittings 

CHAPTER 21 Lighting 

CHAPTER 22 Mechanical, Electrical, and Plumbing Components 

CHAPTER 23 Site and Landscape Components 

CHAPTER 24 Detailing and Annotations 

CHAPTER 25 Constellations
Introduction to BIM Content Development Standards Strategies and Best Practices
---
What is BIM? Whether we are talking about building information modeling or building information management, BIM is a technology that has improved the way structures are designed and built. Just as CAD (computer-aided design) improved upon hand drafting, BIM is improving upon CAD.
The difference is that BIM involves so many more project participants than just the architect. Building information modeling allows the architect to design and detail, the specifier to document, and the contractor to develop far more quickly than previous methods.
The owner and facility manager also see tremendous benefits in forecasting and budgeting. Initially, BIM was viewed as a tool to design in three dimensions and use components rather than lines.
In the time that it has evolved, it has grown tremendously, to a tool that is used for model analysis, clash detection, product selection, and whole project conceptualization.
Just as the aerospace and automotive industries develop digital prototypes of vehicles, the Architectural, Engineering, and Construction (AEC) disciplines are now able to provide a digital representation of a building well before the first dollar is spent or the first shovel hits the ground.
BIM is by no means the panacea for all that ails the AEC communities—it's simply a better tool for the job.
There is no expectation that every component will be accurate to the last screw or that colors will match identically.
BIM provides a level of detail necessary to design and construct a specific project under specific conditions, analyze the design for its merits, and determine specific courses of action based on a greater level of detail than was previously available.
Until recently, the components used within a BIM project were generic and simple in nature, more like a symbol for a component that is to be used than an exact replica of a specific product.
As hardware and software technology improves and the number of involved manufacturers increases, the level of detail and amount of information improve as well.
Manufacturers are becoming more and more involved in BIM because industry trends dictate the necessity of BIM on certain projects. This increases the accuracy of the product information, in turn, the project's accuracy.
Some of the greatest benefits of BIM are the ability to analyze the benefits of a specific product when used in conjunction with others, perform space planning based on different sizes of actually available components, and, in many cases, conceptualize exactly what space will look like once completed.
Bim content development : standards, strategies, and best practices
Author(s): Weygant, Robert S
Publisher: Wiley, Year: 2013
ISBN: 9781118030479
Download BIM Content Development Standards Strategies and Best Practices in PDF Format For Free. 
Related More Books
See More POST On : Engineering Books