| | |
| --- | --- |
| Book Name: | Best Practices in The Petroleum Industry |
| Language: | English |
| Format: | PDF |
| Free Download: | Available |
Handbook of Pollution Prevention and Cleaner Production Best Practices in The Petroleum Industry by Nicholas P. Cheremisinoff and Paul Rosenfeld | PDF Free Download.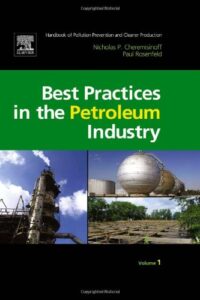 ---
Book Details :
Language
English
Pages
259
Format
PDF
Size
4.19 MB
---
Best Practices in The Petroleum Industry
Authors of Best Practices in The Petroleum Industry PDF
---
Nicholas P. Cheremisinoff is a chemical engineer with more than 35 years of international business, applied research, and engineering experience across several heavy industry sectors.
He has led scores of pollution prevention and cleaner production assessments in major industrial complexes and trained several thousand industry professionals on best practices, waste management, and pollution prevention.
He has contributed extensively to the literature of environmental and chemical engineering practices as an author, co-author, or editor of numerous books and many hundreds of articles. He received his B.Sc., M.Sc., and Ph.D. degrees in chemical engineering from Clarkson College of Technology
Paul Rosenfeld is an environmental chemist with over 20 years of experience. His focus is fate and transport of environmental contaminants, risk assessment, and ecological restoration.
His project experience ranges over the monitoring and modeling of pollution sources as they relate to human and ecological health.
Dr. Rosenfeld has investigated and designed cleanup programs and risk assessments for contaminated sites containing pesticides, radioactive waste, PCBs, PAHs, dioxins, furans, volatile organics, semi-volatile organics, chlorinated solvents, perchlorate, heavy metals, asbestos, odorants, petroleum, PFOA, unusual polymers, and fuel oxygenates.
He received a B.A. in Environmental Studies from UC Santa Barbara, an M.S. in Environmental Science, Policy and Management from UC Berkeley, and a Ph.D. from the University of Washington.
Preface to Best Practices in The Petroleum Industry eBook
---
This is the first in a series of cleaner production and pollution prevention volumes. The series intended to guide best management practices, technologies, and approaches to managing environmental aspects.
The term environmental aspect (EA) refers to the relevant issue(s) that management needs to address, irrespective of the level of abstraction, e.g. waste management, worker protection, compliance, public safety, property damage, global warming, and resource extraction, lack of knowledge about process emissions, toxic material management, and biodiversity.
A list that identifies the EAs logically leads to defining the inputs to other actions aimed at their management, which forms the basis for both a strategy and action plans.
Companies that rely on a formal Environmental Management System or EMS apply the EA concept to managing compliance issues. In contrast, other companies conduct their business without an explicit list of EAs.
These companies generally tend to lack transparency in the priority settings of their environmental work even though they may have a corporate Environmental Policy statement.
All companies really should explicitly identify their EAs because if nothing else it brings clarity and transparency to the organization's management of environmental issues.
Among the reasons why transparency is needed are:
Internal company management (both decision-makers and line and function) require it to implement corrective actions and action plans effectively and to make the hard decisions concerning resource and money allocations.
Internal to the company again, the accounting division needs transparency in order to account for environmental expenditures in the bottom line properly.
External to the company, shareholders and investors demand this today, more so than at any other time in history.
Homeland security and emergency responders need access to this information because it can impact on emergency preparedness and responses to environmental catastrophes.
It can serve as a form of insurance against frivolous claims of wrongdoing or legal suits, or in being named as a potentially responsible party (PRP) for environmental damages.
It can help protect the future value of assets or property, especially at the time of sale or in mergers and acquisitions.
The term EA is used to identify the important environmental issues that an organization should consider in their environmental work.
These include things that we care about due to individual human aspects, such as noise, odor, occupational exposures to potentially harmful environments and situations, laws, and regulations, being a good neighbor, and responding to a complaining community.
EAs can also be a product's or production process's environmental impact, e.g. emissions to a nearby stream, lake or river, stack emissions, and the overuse of energy.
Some other examples are chemical emissions, waste generation, production leakage, recycling, different materials, hazardous materials, electromagnetic fields, and impact on flora and fauna. There are different types of EAs according to ISO standards.
Companies use the EMS, ISO 14001, and other international standards to find a common basis for managing the environment affected by a business's operations.
Implementation of an EMS like ISO 14001 includes defining environmental policy, planning and implementing an environmental program, checking measures according to goals, and reviewing by management.
ISO 14001 is characterized by demands for continuous measurements and an EMS is business-focused. According to ISO 14001, EAs are ''elements of an organization's activities, products or services that can interact with the environment'' (according to standard ISO 14001:1996).
The environment is defined as ''surroundings in which an organization operates, including air, water, land, natural resources, flora, fauna, humans, and their interrelation.''
The term environmental impact (EI) is ''any change of the environment, whether adverse or beneficial, wholly or partially resulting from an organization's activities, products or services.'' Annex A to ISO 14001 states that the process to identify the significant environmental aspects associated with the activities at operating units should, where relevant, consider:
emissions to air; releases to water bodies; waste management; land contamination; use of raw materials and natural resources; other local environmental issues.
Significant EAs are the most important ones that cause the highest environmental impact or are important due to legislation and other requirements (e.g. environmental policy, customer demands).
Significance equals the prioritizing (not relative) between chosen EAs at a company. There are many EAs in the refining sector because the petroleum industry is among the highest generators of pollution.
While it has made major strides to reduce emissions and hazardous wastes since about the late 1980s, it continues to generate significant levels of toxic air emissions and poorly manage many of its other EAs.
There are numerous waste reduction case studies that have been documented where petroleum refineries have simultaneously reduced pollution and operating costs, but there are many more that are never implemented because a major barrier is a cost.
Because environmental accounting practices focus largely on direct financial returns, most pollution reduction options appear not to pay for themselves.
The corporate mentality is such that investments typically must earn an adequate return on invested capital for the shareholders and some pollution prevention options at some facilities may not meet the requirements set by the companies.
In addition, the equipment used in the petroleum refining industry is very capital intensive and has very long lifetimes. This reduces the incentive to make process modifications to (expensive) installed equipment that is still useful.
What is often missed is the fact that pollution prevention techniques are often more cost-effective than pollution reduction through end-of-pipe treatment.
This is best understood when consideration is given to indirect cost savings. Indirect cost savings include: reduced healthcare costs from less exposure to air pollution;
Reduced threat from litigations for property damages, medical monitoring, and health claims by citizens who have been exposed to pollution; greater investor confidence (direct correlation between stock prices on the Dow Jones Industrials have been linked to reported reductions in emissions from company Toxic Release Inventory reporting).
A further example is a case study based on the Amoco/Environmental Protection Agency (EPA) joint study, which claimed that the same pollution reduction currently realized through end-of-pipe regulatory requirements at the Amoco facility could be achieved at 15% of the current costs using pollution prevention techniques.
In addition to the general discounting of indirect cost savings, today's regulatory incentives to invest in cleaner production technologies are poor. Consider the following:
The 1990 Clean Air Act Amendments intended to encourage voluntary reductions above the regulatory requirements by allowing facilities to obtain emission credits for voluntary emissions reductions.
These credits served as offsets against any potential future facility modifications increasing emissions. However, other regulations established by the amendments require the construction of major new units within existing refineries to produce reformulated fuels. But these new operations require emission offsets in order to be permitted.
This is counterproductive because it consumes many of the credits available for existing facility modifications. Thus a shortage of credits for facility modifications makes it difficult to receive credits for emission reductions through pollution prevention projects.
Under the Clean Water Act, the discharge of water-borne pollutants is limited by NPDES permits. Refineries that meet their permit requirements often have their permit limits changed to lower values.
Because system upsets occur, resulting in significant excursions above the normal performance values, many refineries believe they must maintain a large operating margin below the permit limits in order to ensure continuous compliance.
Refineries that can significantly reduce water-borne emissions are faced with the risk of having their permit limits lowered, which is a disincentive.
Wastes failing a Toxicity Characteristic (TC) test are considered hazardous under the Resource Conservation and Recovery Act (RCRA).
There is less incentive for a refinery to attempt to reduce the toxicity of such waste below the TC levels because, even though such toxicity reductions may render the waste non-hazardous, such waste may still have to comply with new land disposal treatment standards under subtitle C of the RCRA before being land disposed of.
There is less incentive to reduce the toxicity of listed refinery hazardous wastes because, once listed, the waste is subject to subtitle C regulations without regard to how much the toxicity levels are reduced.
In addition to these disincentives, the USA has had 8 years of national policy that has heavily favored productivity at the expense of the environment and public safety.
This is exemplified by attempts to dismantle the Toxic Release Inventory program, refusal to commit to international reduction targets in greenhouse gas emissions, the absence of an energy conservation policy, refusal to invest in renewable energy resources, and an extension of emissions monitoring requirements over longer periods with less frequent reporting.
While these factors suggest that the industry will continue to be satisfied with the poor to marginal environmental performance, there has been an exponential increase in class action and private citizen suits against the industry and even the EPA.
This, in fact, is simply history repeating itself. In a time before the US EPA, it was citizen action groups and civil court actions on the part of citizens and class actions that forced corporations to act more responsibly.
This volume is written largely for the industry. It highlights EAs, offers alternatives to managing them with a focus on some of the more low-cost pollution prevention practices, and it is intended to stimulate ideas and approaches to better management of pollution issues.
There are six chapters. The first chapter provides an overview of gas plant operations and refineries and identifies major EAs. Chapters 2–4 are case studies of major incidents that resulted in catastrophic releases of oil and refined products.
Chapter 5 critically assesses the methodology and calculation procedures that the industry relies on preparing emissions inventories. The chapter offers alternative approaches to providing more accurate emissions estimates.
Chapter 6 provides guidelines on cleaner production and pollution prevention practices for improving overall environmental performance. The authors wish to thank Elsevier for the fine production of this volume.
Download Handbook of Pollution Prevention and Cleaner Production – Best Practices in The Petroleum Industry (Handbook of Pollution Prevention and Cleaner Production, Volume 1) PDF 
Author(s): Nicholas P Cheremisinoff Consulting Engineer, Paul F. Rosenfeld
Year: 2009
ISBN: 0815520352,9780815520351
Download Best Practices in The Petroleum Industry in PDF Format For Free. 
Related More Books
See More POST On : Engineering Books