| | |
| --- | --- |
| Book Name: | Basic Principles of Power Electronics PDF |
| Category: | Electrical books ( EE ) |
| Language: | English |
| Format: | PDF |
| Free Download: | Available |
Free Download Basic Principles of Power Electronics PDF Book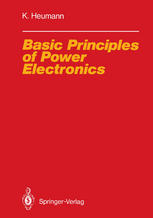 Book Description: 
The technology embodied by the name «power electronics» is complex. It comprises power and signal-level electronics and thermal, mechanical, control, and protection systems. The power circuit, that part of the system that processes energy, can be considered an amplifier around which a closed loop control system is placed.
This book aims to provide an easily understood exposition of the principles of power electronics. Standard features of systems and their behavior are identified to facilitate understanding. Thyristor converters are distinguished and treated according to their mode of commutation. Circuits for various converters and their controls are presented, along with a description of ancillary courses such as those required for snubbing and gate drives.
Thermal and electrical properties of semiconductor power devices are discussed. The line-converter and converter-load interfaces are examined, leading to some general statements about energy transfer. Application areas are identified and categorized concerning power and frequency ranges. The many tables presented in the book provide an easily used reference source.
Download Basic Principles of Power Electronics PDF
Author(s): Prof. Dr.-Ing. Klemens Heumann (auth.)
Series: EESES Electric Energy Systems and Engineering Series
Publisher: Springer-Verlag Berlin Heidelberg, Year: 1986
ISBN: 978-3-642-82676-4,978-3-642-82674-0
Basic Principles of Power Electronics PDF Book Details
Basic Principles of Power Electronics PDF Table Of Contents
Related More Books
Search Results For Keywords Basic Principles of Power Electronics PDF