| | |
| --- | --- |
| Book Name: | [PDF] Electrical Installation Work Book By Brian Scaddan |
| Category: | Electrical books ( EE ) |
| Language: | English |
| Format: | PDF |
| Free Download: | Available |
Electrical Installation Work :: This highly successful book is now updated in line with the 18th Edition of the Wiring Regulations. Electrical Installation Work provides a topic by topic progression through the areas of electrical installations, including how and why electrical installations are designed, installed and tested. Additional content in this edition includes detail on LED lighting and medical locations. A new appendix contains a glossary of electrical installation work terms, ensuring that readers of all levels of experience can easily grasp every topic.
Brian Scaddan's subject-led approach makes this a valuable resource for professionals and students on both City & Guilds and EAL courses. This approach also makes it easy for those who are learning the topic from scratch to get to grips with it in a non syllabus-led way.
The book is already widely used in education facilities across the UK. It has been published for almost 40 years, and in its current form since 1992.
Electrical Installation Work covers both theory and practice for the trainee who wants to understand not only how, but why electrical installations are designed, installed and tested in particular ways. Brian Scaddan's approach encourages independent learning with self-assessment questions provided throughout.
In previous editions, it has become well established as the leading text for the City & Guilds course 2360 Parts 1 and 2, and helped thousands of students and apprentices achieve success in gaining their electrical installation qualifications. Now in its fifth edition, this text has been restructured and updated to cater for the new 2330 Certificate in Electrotechnical Technology from City & Guilds at Levels 2 and 3 (Installation route – buildings and structures), also meeting the requirements of the Level 2 NVQ in Installing Electrotechnical Systems (2356), and Level 3 NVQs in Electrotechnical Services.
Brought fully in line with the IEE Wiring Regulations BS 7671:2001 (incorporating Amendments 1:2002 & 2:2004), this book will also form an invaluable source of reference in every day working practice for electrical installation engineers based in industry.
Electrical Installation Work Book By Brian Scaddan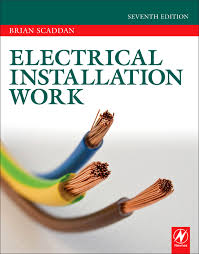 Electrical Installation Work Sixth Edition By Brian Scaddan
Electrical Installation Work PDF
Author(s): Brian Scaddan
Publisher: Routledge/Taylor & Francis, Year: 2019
ISBN: 0367023342, 9780367023348
Book Description:
Brian Scaddan's Electrical Installation Work explains in detail how and why electrical installations are designed, installed and tested. Mapped closely to the learning outcomes of the City and Guilds 2357 Diploma in Electrotechnology. Fully aligned to the 17th Edition of the Wiring Regulations. Covers all of the City and Guilds 2357 course material in one volume You will be guided in a logical, topic by topic Read more…
Book Content:
Front Cover; Electrical Installation Work; Copyright Page; Contents; Preface; Mapping to City and Guilds 2357 Certificate in Electrotechnical Technology; CHAPTER 1 Basic Information and Calculations; CHAPTER 2 Electricity; CHAPTER 3 Resistance, Current and Voltage, Power and Energy; CHAPTER 4 Electromagnetism; CHAPTER 5 Capacitors and Capacitance; CHAPTER 6 Resistance, Inductance and Capacitance in Installation Work; CHAPTER 7 Three-Phase Circuits; CHAPTER 8 Motors and Generators; CHAPTER 9 Cells and Batteries; CHAPTER 10 Illumination and ELV Lighting. CHAPTER 11 Electricity, the Environment and the CommunityCHAPTER 12 Health and Safety; CHAPTER 13 The Electrical Contracting Industry; CHAPTER 14 Installation Materials and Tools; CHAPTER 15 Installation Circuits and Systems; CHAPTER 16 Earthing and Bonding; CHAPTER 17 Protection; CHAPTER 18 Circuit and Design; CHAPTER 19 Testing; CHAPTER 20 Basic Electronics Technology; Answers to Self-Assessment Questions; Appendix; Index.
Abstract: Brian Scaddan's Electrical Installation Work explains in detail how and why electrical installations are designed, installed and tested. Mapped closely to the learning outcomes of the City and Guilds 2357 Diploma in Electrotechnology. Fully aligned to the 17th Edition of the Wiring Regulations. Covers all of the City and Guilds 2357 course material in one volume You will be guided in a logical, topic by topic progression through all the areas required to complete the City and Guilds 2357 Diploma in Electrotechnical Technology. Rather than following the order of the syllabus, this approach
Related Results : advanced electrical installation work 2365 edition pdf,advanced electrical installation work 7th edition pdf,advanced electrical installation work book,advanced electrical installation work level 3 pdf,advanced electrical installation work pdfadvanced electrical installation work sixth edition pdf,
Related More Books
See More POST On : Engineering Books