| | |
| --- | --- |
| Book Name: | [PDF] Automotive Engineering: Lightweight, Functional, and Novel Material |
| Category: | Mechanical Books |
| Free Download: | Available |
Automotive Engineering PDF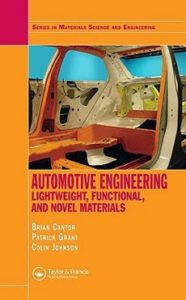 Automotive Engineering: Lightweight, Functional, and Novel Material
Book Description:
The current automotive industry faces numerous challenges, including increased global competition, more stringent environmental and safety requirements, the need for higher performance vehicles, and reducing costs. The materials used in automotive engineering play key roles in overcoming these issues. Automotive Engineering: Lightweight, Functional, and Novel Materials focuses on both existing materials and future developments in automotive science and technology.
Advances in automobile technology are dictated to some extent by the pace of development in materials research. This book, based on a workshop for graduate students in materials science and engineering, presents an overview of the materials currently in use in the automotive industry, and those in development for future implementation.
The book is divided into four sections. The first consists of contributions from those working in the industrial sector, and describes how modern industrial manufacturing methods are applied to 'traditional' materials such as aluminium and steel. The concluding chapters of this section consider how future technologies will be integrated into manufacturing methods. Section 2 reviews so-called 'functional materials', including electronic materials and smart materials. It also contains a chapter which considers the behaviour of automotive materials during impacts, and the modelling of designs to reduce damage caused in this way. Section 3 reviews advances made in the design of structures using lightweight metals and alloys. The final section reviews processing and manufacturing techniques, including those used in specific engineering scenarios.
Book Contents:
Future Vehicles and Materials Technologies
Automobile Aluminum Sheet
Plastic Technology for Automotive Modules
Automotive Catalysts
Magnetorheological Fluids
Impact Loading
High-Temperature Electronic Materials
Smart Materials
Formability of Aluminum Alloys
Ductile Magnesium
Enhancement of Crashworthiness
Compressive Properties of Cellular Metals
Heavily Deformable Al Alloy
Stainless Steel Sandwich Sheets
Welding and Joining
Titanium Aluminide-Based Intermetallic Alloys
Casting Processes and Simulation Tools
Damage Tolerance in Composite Structures
High-Performance Autosport Surface Treatments and Composites
Automotive Engineering: Lightweight, Functional, and Novel Materials PDF
Author(s): Brian Cantor, P. Grant, C. Johnston
Series: Series in Material Science and Engineering
Publisher: Taylor & Francis, Year: 2008
ISBN: 0750310014,9780750310017
Automotive Engineering PDF
Related Results : Automotive Engineering,Automotive Engineering book,automotive engineering lightweight functional and novel materials,automotive engineering lightweight functional and novel materials pdf,Automotive Engineering PDF
Related More Books