| | |
| --- | --- |
| Book Name: | [PDF] Autodesk Revit 2017 for Architecture No Experience Required by Eric Wing |
| Category: | AutoCAD Books |
| Language: | English |
| Format: | PDF |
| Free Download: | Available |
Autodesk Revit 2017 for Architecture No Experience Required by Eric Wing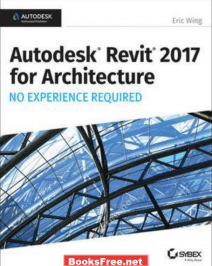 ---
E book Particulars :
Language
English
Pages
707
Format
PDF
Dimension
26.8
---
Book Description:
The only Revit tutorial guide based on a real project workflow Autodesk Revit Architecture No Experience Required is the ultimate real-world guide for mastering this increasingly prevalent BIM software package. Using a continuous, step-by-step tutorial, this book walks you through all project phases as you learn the basics of Revit by designing, documenting, and presenting a four-story office building. You'll begin by learning your way around the interface and conventions, then jump right into design by placing walls, doors, and windows. Next you'll work with grids, beams, foundations, dimensions, and text as you build floors layer by layer, join walls, create ceilings and roofs, and place stairs, ramps, and railings. The instruction covers construction documentation, advanced detailing, families, and site considerations including grading and top surface features to provide a well-rounded, real-world Revit skill set. The companion website features downloadable 'before and after' tutorial files that allow you to jump in at any point and compare your work to the pros. The shift from 2D drafting to 3D building information modeling has made Revit a must-have skill for an increasing number of design, engineering, and construction professionals. This book is designed to teach you the basics quickly, using a real-world workflow, process, and pacing.-Get acquainted with the Revit interface, then immediately start building -Learn to place structural components, text, dimensions, and more -Understand views, grids, editing, importing, exporting, and work sharing -Generate construction documentation including schedules and material takeoffs This simple yet engaging tutorial brings together all of the major skills a Revit user needs to know to complete real workplace projects. Whether read from beginning to end as a comprehensive lesson, or used as 'dip-in' reference for unfamiliar tasks, Autodesk Revit Architecture No Experience Required provides invaluable practical BIM instruction for every phase of a project.
BOOK CONTENTS:
CHAPTER (1) The Autodesk Revit World.
The Revit Interface.
The Revit Workflow.
Utilizing the Ribbon.
The View Window.
Object Choice.
Modifying and Mirroring.
Constructing on Present Geometry.
View Management and Object Show.
The Venture Browser.
Home windows.
File Varieties and Households.
System and Hosted Households.
Utilizing Revit Template Information.
Utilizing Revit Household Information.
Are You Skilled.
CHAPTER (2) Making a Mannequin.
Inserting Partitions.
Including Exterior Partitions.
Utilizing Reference Planes.
Including Extra Partitions.
Including Inside Partitions.
Utilizing Momentary Dimensions to Achieve Management of Your Mannequin.
Modifying Wall Joins.
Displaying Wall Joins.
Disallowing Wall Joins.
Inserting Doorways and Home windows.
Including Doorways.
Inserting Openings in Your Partitions.
Including Home windows.
Are You Skilled.
CHAPTER (3) Creating Views.
Creating Ranges.
Including Ranges.
Understanding the Composition of a Degree.
Making Different Degree Changes.
Creating and Modifying Constructing Sections.
Including a Constructing Part.
Making Constructing Modifications in a Part.
Including Wall Sections.
Creating Element Sections.
Utilizing Crop Areas.
Splitting a Part Phase.
Creating Callouts.
Creating and Modifying a Digital camera View.
Including a Digital camera View.
Modifying the Digital camera.
Creating an Elevation.
Inside Elevations.
Elevation Properties.
Annotation Properties.
Are You Skilled?
CHAPTER (4) Working with the Autodesk Revit Instruments.
The Primary Edit Instructions.
The Transfer Command.
The Copy Command.
The Rotate Command.
The Array Command.
Radial Array.
Linear Array.
The Mirror Command.
The Align Device.
Locking an Alignment.
The Cut up Factor Command.
The Trim Command.
The Offset Command.
Copy/Paste.
Creating the Plans.
Are You Skilled?
CHAPTER (5) Dimensioning and Annotating.
Choosing and Making use of Dimensioning.
Aligned Dimensions.
Linear Dimensions.
Angular Dimensions.
Radial Dimensions.
Arc Size Dimensions.
Utilizing Dimensions as a Structure Device.
Constraining the Mannequin.
Utilizing Dimensions to Transfer Objects.
Utilizing Dimension Textual content Overrides.
Inserting Textual content and Annotations.
Including Chief Textual content.
Altering the Chief Sort.
Modifying the Textual content Placement.
Altering Textual content Properties.
Are You Skilled?
CHAPTER (6) Flooring.
Inserting a Ground Slab.
Creating the Slab.
Sketching the Slab.
Constructing a Ground by Layers.
Including Supplies.
Including a Layer.
Splitting the Ground Supplies.
Including an Alternate Materials.
Splitting and Portray.
Pitching a Ground to a Ground Drain.
Creating Shaft Openings.
Are You Skilled?
CHAPTER (7) Roofs.
Inserting Roofs by Footprint.
Flat Roofs by Footprint.
Pitched Roofs by Footprint.
Making a Sloping Roof f.
Creating Roofs by Extrusion.
Including a Roof Dormer.
Are You Skilled?
CHAPTER (8) Structural Objects.
Including Structural Grids.
Inserting a Grid.
Including Structural Columns.
Utilizing Structural Framing.
Including a Beam System.
Including Bracing.
Understanding Basis Techniques.
Including Structural Footings.
Structural Slabs.
Piers and Unfold Footings.
Utilizing Structural Views.
Are You Skilled?
CHAPTER (9) Ceilings and Interiors.
Creating Ceilings.
Modifying Ceiling Grids.
Setting Ceiling Factor Properties.
Making a Plan Area.
Making a Customized Ceiling.
Creating Ceiling Openings and Soffits.
Making a Ceiling Opening.
Making a Soffit.
Including Mild Fixtures to Ceilings.
Including Inside Design.
Including Plumbing Fixtures and Furnishings.
Including Parabolic Troffers.
Including Casework and Furnishings.
Including Alternate Ground Supplies.
Separating the Ground.
Making a Tile Materials.
Are You Skilled?
CHAPTER (10) Stairs, Ramps, and Railings.
Creating Stairs by Utilizing the Rise/Run Operate.
Modifying Boundaries.
Configuring Railings.
Making a Winding Staircase.
Stair and Railing Households.
Making a Customized Railing System.
Creating Customized Stairs.
Including a Customized Touchdown.
Including a Gooseneck.
Including Ramps.
Are You Skilled?
CHAPTER (11) Detailing.
Working with Line Weights.
Drafting on High of the Element.
Utilizing Predefined Element Parts.
Masking Areas.
Repeating Particulars..
Modifying a Element Part.
Modifying Crammed Areas.
Drawing Element Strains.
Specifying Drafting Line Weights.
Including Notes.
Including Textual Notations.
Creating Clean Drafting Views.
Making a Element Group.
Including a Part to One other View.
Importing AutoCAD Information right into a Drafting View.
Including 2D and 3D Strains to the Mannequin.
Are You Skilled?
CHAPTER (12) Creating Specifi c Views and Match Strains.
Duplicating Views.
Creating Dependent Views.
Adjusting the Crop Areas.
Adjusting the Annotation Crop Area.
Including Match Strains.
Match-Line Look.
Including View References to a Match Line.
Utilizing View Templates.
Are You Skilled?
CHAPTER (13) Creating Sheets and Printing.
Creating and Populating Sheets.
Sheet Group.
Modifying a Viewport .
Viewport Properties.
Including Revisions to a Sheet.
Addressing Venture Parameters.
Producing a Cowl Sheet.
Printing from Revit Architecture.
Are You Skilled?
CHAPTER (14) Creating Rooms and Space Plans.
Creating Rooms.
Configuring Properties.
Inserting and Manipulating Room Tags.
Including a Room Schedule.
Including a Coloration-Fill Plan.
Including Room Separators.
Creating an Space Plan.
Are You Skilled?
Mastering Autodesk Revit 2017 for Architecture PDF
Download Autodesk Revit 2017 for Architecture No Experience Required PDF free.

Related More Books