| | |
| --- | --- |
| Book Name: | [PDF] Auto Repair For Dummies |
| Category: | Automobile Engineering |
| Language: | English |
| Format: | PDF |
| Free Download: | Available |
Auto Repair For Dummies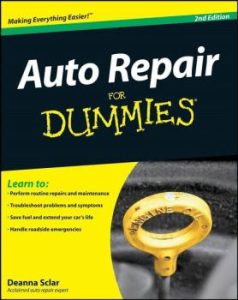 Get the confidence and know-how you need to fix and maintain your vehicle like a pro!
Want to handle basic auto repairs yourself? This easy-to-follow guide gives you the nuts and bolts of diagnosing trouble and performing simple maintenance and repairs on your vehicle. You'll explore key systems and keep everything running in tiptop shape.
Get to know your vehicle ? understand what you're looking at when you check under the hood
Keep your cool ? add and change coolant and change the oil
Ensure a smooth ride ? buy new tires, care for tires, and change tires
Stay on top of your electrical system ? change spark plugs, fuses, and the battery
Be a buddy to your brakes ? check your brakes for wear; flush the system and change the fluid; adjust your parking brake
Recognize the sounds of trouble ? suss out sounds, squeaks, rattles, vibrations, and more
Open the book and find:
A step-by-step under-the-hood checklist
How to jack up your vehicle safely
How to check and change your own oil
Eco-friendly tips for saving fuel
Helpful illustrations that demonstrate repairs
Whether it's time for a tune-up
Tips on identifying common sounds, squeaks, and leaks
Learn to:
Perform routine repairs and maintenance
Troubleshoot problems and symptoms
Save fuel and extend your car's life
Contents Of The Book:
Chapter 1: Things Every Driver Should Know.
Chapter 2: Preventive Maintenance: A Monthly Under-the-Hood Check.
Chapter 3: The Way to Your Car's Heart Is through Your Toolbox.
Chapter 4: What Makes It Go? The Inner Secrets of Your Car Revealed!
Chapter 5: The Electrical System: Your Car's Spark of Life.
Chapter 6: Keeping Your Electrical System in Tune.
Chapter 7: The Traditional Fuel System: The Heart and Lungs of Your Car.
Chapter 8: Keeping Your Fuel System in Tune.
Chapter 9: Diesels For Dummies.
Chapter 10: From Horses to Hybrids: Alternatively Powered Vehicles.
Chapter 11: The Cooling System Up Close.
Chapter 12: Keeping Your Car from Getting Heartburn.
Chapter 13: Oil: Keeping Your Car Young and Happy.
Chapter 14: It's the Brakes!.
Chapter 15: Be a Buddy to Your Brakes and Bearings.
Chapter 16: Steering and Suspension Systems Smooth the Way.
Chapter 17: How to Keep Your Car from Getting Sore Feet: Tires, Alignment, and Balancing.
Chapter 18: Take the Drive Train: Understanding and Maintaining Your Transmission without Losing Your Mind.
Chapter 19: Staying Safe on the Road.
Chapter 20: Troubleshooting Leaks, Squeaks, Smells, and Strange Sensations.
Chapter 21: What to Do If Your Car Drops Dead or Won't Start.
Chapter 22: When All Else Fails: Finding and Dealing with a Good Mechanic.
Chapter 23: Keeping Your Vehicle Clean and Beautiful.
Chapter 24: Bodywork: Getting Rid of Dings, Dents, and Other Hard Knocks.
Chapter 25: The Ten Most Important Preventive Maintenance Measures.
Chapter 26: Ten "Eco-Logical" Ways to Save Fuel.
Get Paper Book : Auto Repair For Dummies
Auto Repair For Dummies PDF
Author(s): Deanna Sclar
Series: For dummies
Publisher: Wiley Publishing, Year: 2009
ISBN: 076459902X
Related More Books
See More POST On : Engineering Books