| | |
| --- | --- |
| Book Name: | Advanced Concrete Technology |
| Category: | Civil Engineering Books |
| Language: | English |
| Format: | PDF |
| Free Download: | Available |
Free Download Advanced Concrete Technology PDF Book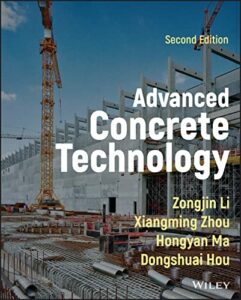 Book Description:
A thorough grounding in the science of concrete combined with the latest developments in the rapidly evolving field of concrete technology
In the newly revised second edition of Advanced Concrete Technology, a distinguished team of academics and engineers delivers a state-of-the-art exploration of modern and advanced concrete technologies developed during the last decade. The book combines the essential concepts and theory of concrete with practical examples of material design, composition, processing, characterization, properties, and performance.
The authors explain, in detail, the hardware and software of concrete, and offer readers discussions of the most recent advances in concrete technology, including, but not limited to, concrete recycling, nanotechnology, microstructural simulation, additive manufacturing, and non-destructive testing methods.
This newest edition of Advanced Concrete Technology emphasizes sustainable and novel technologies, like new binders, 3D printing, and other advanced materials and techniques. Readers will also find:
A thorough introduction to concrete, including its definition and its historical evolution as a material used in engineering and construction
In-depth explorations of the materials for making concrete and the properties of fresh concrete
Comprehensive discussions of the material structure of concrete, hardened concrete, and advanced cementitious composites
Fulsome treatments of concrete fracture mechanics, non-destructive testing in concrete engineering, and future trends in concrete
Perfect for undergraduate and graduate students are studying civil or materials engineering—especially those taking classes in the properties of concrete or concrete technologies—and engineers in the concrete industry. Advanced Concrete Technology, 2nd Edition, will also earn a place in the libraries of civil and materials engineers working in the industry.
Download Advanced Concrete Technology Free 
Author(s): Xiangming Zhou, Zongjin Li, Hongyan Ma, Dongshuai Hou
Publisher: Wiley, Year: 2022
ISBN: 1119806259,9781119806257
Related More Books