| | |
| --- | --- |
| Book Name: | 5G Physical Layer: Principles, Models and Technology Components |
| Category: | Telecommunication Books |
| Free Download: | Available |
Free PDF Download 5G Physical Layer: Principles, Models and Technology Components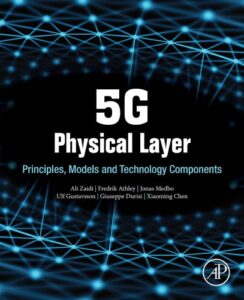 Book Description
5G Physical Layer: Principles, Models and Technology Components explains fundamental physical layer design principles, models, and components for the 5G new radio access technology 5G New Radio (NR). The physical layer models include radio wave propagation and hardware impairments for the full range of frequencies considered for the 5G NR (up to 100 GHz). The physical layer technologies include flexible multi-carrier waveforms, advanced multi-antenna solutions, and channel coding schemes for various services, deployments, and frequencies envisioned for 5G and beyond. A MATLAB-based link-level simulator is included to explore various design options.
The 5G Physical Layer is very suitable for wireless system designers and researchers: a basic understanding of communication theory and signal processing is assumed, but familiarity with 4G and 5G standards is not required.
With this book, the reader will learn:
The fundamentals of the 5G NR physical layer (waveform, modulation, numerology, channel codes, and multi-antenna schemes).

Why certain PHY technologies have been adopted for the 5G NR.

The fundamental physical limitations imposed by radio wave propagation and hardware impairments.

How the fundamental 5G NR physical layer functionalities (e.g., parameters/methods/schemes) should be realized.
The content includes:
A global view of the 5G development concept, standardization, spectrum allocation, use cases and requirements, trials, and future commercial deployments.

The fundamentals behind the 5G NR physical layer specification in 3GPP.

Radio wave propagation and channel modeling for 5G and beyond.

Modeling of hardware impairments for future base stations and devices.

Flexible multi-carrier waveforms, multi-antenna solutions, and 5G and beyond channel coding schemes.

A simulator including hardware impairments, radio propagation, and various waveforms.
Ali Zaidi
is a strategic product manager at Ericsson, Sweden. Fredrik Athley is a senior researcher at Ericsson, Sweden. Jonas Medbo and Ulf Gustavsson are senior specialists at Ericsson, Sweden. Xiaoming Chen is a professor at Xian Jiaotong University, China. Giuseppe Durisiis a professor at Chalmers University of Technology, Sweden, and a guest researcher at Ericsson, Sweden.
–This text refers to an out-of-print or unavailable edition of this title.
About the Author
Ali Zaidi received MSc and Ph.D. degrees in Telecommunications from KTH Royal Institute of Technology, Sweden, in 2008 and 2013, respectively. He joined Ericsson in 2014 and is currently a Strategic Product Manager for Internet-of-Things and Mobile Broadband. He has been working with concept development and standardization of radio access technologies (NR and LTE-Advanced Pro) within 3GPP and 5G-PPP. His research focuses on physical layer design for mmWave Communications, Indoor Positioning, Device-to-Device Communications, and Systems for Intelligent Transportation and Networked Control. His technical contributions include 50+ peer-reviewed publications, 15+ filed patents, 2 book chapters, and several 3GPP papers. Zaidi has been serving as a member of Technology Intelligence Group Radio and a member of the Young Advisory Board at Ericsson Research. His past affiliations include being a Post-doctoral Fellow in the Department of Automatic Control at Chalmers University, Sweden; Visiting Researcher in the Department of Mathematics at Queens University, Canada; an Intern at ABB Corporate Research, Sweden; and Trainee at Catena Radio Design, the Netherlands.
Fredrik Athley received the M.Sc. and Ph.D. in Electrical Engineering from Chalmers University of Technology, Göteborg, Sweden, in 1993 and 2003, respectively. In 1993 he received the International Diploma of Imperial College, London, UK. Since 1993 he has been working at Ericsson with system-level analysis and design of radar and wireless communication systems and since 2005 he is a Senior Researcher at Ericsson Research. He is currently working with the standardization of multi-antenna techniques in the new radio (NR) access technology for 5G.
Jonas Medbo is currently a senior specialist in applied propagation at Ericsson Research, Sweden. He received his Ph.D. in particle physics from Uppsala University, Sweden, in 1997. Since 1997 he has been with Ericsson Research focusing on propagation research. He has contributed to widely used propagation modelings in ETSI 3GPP, METIS, mmMAGIC and ITU-R. In particular, he has been focusing on highly resolved directional channel characteristics for which he received the best propagation paper award at the European Conference on Antennas and Propagation (EuCAP) in 2012., In the past he has been a driver of 5G propagation measurements and modeling in the European projects METIS and magic. The METIS channel modeling group received the Wireless Innovation Forum Technology of the Year Award 2015 for "The METIS project's Development of 5G radio channel models. Moreover, he has contributed substantially to the 5G channel models in 3GPP and been a main driver of the recent ITU-R models (P.2108 & P.2109) to be used for intersystem spectrum sharing studies prior to world radio conference in 2019 with corresponding IMT 2020 spectrum allocation.
Ulf Gustavsson received the M.Sc. degree in electrical engineering from Örebro University, Örebro, Sweden, in 2006, and the Ph.D. degree from the Chalmers University of Technology, Gothenburg, Sweden, in 2011. He is currently a Senior Specialist with Ericsson Research where his research interests include radio signal processing techniques for hardware impairment mitigation and behavioral modeling of radio hardware for future advanced antenna systems. Dr. Gustavsson is currently also the lead scientist from Ericsson Research in the Marie Skłodowska-Curie European Industrial Doctorate Innovative Training Network, SILIKA ( http://silika-project.eu/ ).
Giuseppe Durisi received the Laurea degree summa cum laude and the Doctor degree both from Politecnico di Torino, Italy, in 2001 and 2006, respectively. From 2002 to 2006, he was with Istituto Superiore Mario Boella, Torino, Italy. From 2006 to 2010 he was a postdoctoral researcher at ETH Zurich, Zurich, Switzerland. In 2010, he joined Chalmers University of Technology, Gothenburg, Sweden, where he is now professor with the Communication Systems Group and co-director of Chalmers ICT Area of Advance. Dr. Durisi is a senior member of the IEEE. He is the recipient of the 2013 IEEE ComSoc Best Young Researcher Award for the Europe, Middle East, and Africa Region, and is co-author of a paper that won a "student paper award" at the 2012 International Symposium on Information Theory, and of a paper that won the 2013 IEEE Sweden VT-COM-IT joint chapter best student conference paper award. In 2015, he joined the IEEE Transactions on Communications editorial board as associate editor. From 2011 to 2014, he served as publications editor for the IEEE Transactions on Information Theory. His research interests are in the areas of communication and information theory. –This text refers to an out of print or unavailable edition of this title.
5G Physical Layer Principles, Models and Technology Components PDF
Author(s): Ali Zaidi Fredrik Athley Jonas Medbo Ulf Gustavsson Giuseppe Durisi Xiaoming Chen
Year: 2018
Related More Books