| | |
| --- | --- |
| Book Name: | 101 Smart Questions to Ask on Your Interview by Ron Fry |
| Language: | English |
| Format: | PDF |
| Free Download: | Available |
Free Download 101 Smart Questions to Ask on Your Interview by Ron Fry PDF Book 
---
Book Details :
Language
English
Pages
170
Format
PDF
Size
960 KB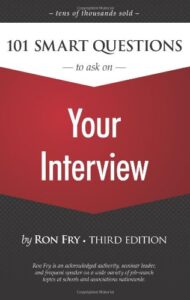 101 Smart Questions to Ask on Your Interview by Ron Fry | PDF Free Download.
101 Smart Questions Contents
---
Chapter 1 When, Where, Why, and How to Ask Smart Questions

Chapter 2 Questions to Ask Yourself

Chapter 3 Questions to Ask During Your Research

Chapter 4 Questions to Ask "Preinterviewers"

Chapter 5 Questions to Ask Your New Boss

Chapter 6 Questions to Close the Sale

Chapter 7 Questions to Get the Best Deal
Introduction to 101 Smart Questions to Ask on Your Interview
---
Most job candidates think of the interview in completely the wrong way. They think of it as an interrogation, a police lineup.
And they see themselves as suspects, not as the key prospects they really are. This book will show you that you are, to a very large degree, in charge of the interview. It will convince you that you are there not only to sell the company on you but to make sure that you are sold on them.
It will give you the powerful questions that will work whatever your age, whatever your experience, whatever your goals. It will not, however, spend very much time preparing you for the questions the interviewer is going to throw at you.
Luckily for you (why am I so good to you?), I've already written the companion book to this one—101 Great Answers to the Toughest Interview Questions— whose sole purpose is to do exactly that. (Not only did I already write it, but I've also revised it five times, and it has sold well over one million copies.)
Using these two books together, you will be armed for any interview and interviewer. Even though I think you should buy a copy of my other book, I am going to reveal a secret that may cost me sales:
There really aren't 101 questions you have to prepare yourself for. Not even a dozen. There are only five questions interviewers desperately want to know your answers to:
Can you do the job?
Do you have the specific qualifications I'm seeking? Do you have the right degree? The right experience? The appropriate skills?
Will you do the job …
… better than the other people I'm interviewing? Prove to me that you're the best person for the job.
Will you actually take the job if I offer it to you?
How hungry are you? How much do you actually want this specific job? Or are you so desperate you'll take any job … even this one?
Even if you are perfectly qualified and highly motivated, do I think you will fit in with the rest of the group?
The smaller the company or department, the more important this chemistry question becomes. In a one- or two-person office, it may be the key question.
Will you make me, the interviewer, look like a genius for recommending or hiring you?

Or will your miscues and missteps make me look like an idiot, kill my promotion, slash my bonus, maybe even jeopardize my own job? (The higher up on the interviewer's food chain, the more central this question becomes to her.)
Will you ever be asked these questions?

Probably not. You will be asked dozens of questions about your strengths and weaknesses, your successes and failures, your plans and ideas. Just remember: The answers to these five questions is what all the other questions are really trying to ascertain.
Why Ask Questions?
Crafting concise, targeted, enthusiastic, and positive responses to the interviewer's questions allow you to demonstrate your knowledge of the company and industry and show how your qualifications would help you fit right in.
Asking concise, targeted, and well-crafted questions give you additional chances to demonstrate the extent of your research, to build on whatever rapport you've established, and to align what you know and can do with what the company needs.
These questions, by their very nature, proclaim that you are interested. Likewise, the complete lack of questions will undoubtedly convince most interviewers that you are not interested in.
Oh, you were interested? You didn't have any questions. Sorry, interviewers don't consider that an option. No questions? No job offer.
That's certainly a rule with a vast majority of interviewers. (No, please, don't try the "but the interviewer was so good that he answered all my questions" bit. Doesn't work. Wouldn't be prudent. Not going to go there.)
As I'm going to emphasize throughout this book, asking questions the smart way is just another way to match your skills, talents, and qualifications to the company's needs; it's another opportunity to demonstrate that you are far and away from the only candidate the interviewer should consider.
By preceding many of your questions with a phrase or statement that reminds the interviewer of something you said earlier or a point you want to continually reemphasize, it's another chance to "blow your own horn":
"Mr. Jones, as my stint at Eubonics, Inc. clearly showed, I have the ability to motivate a team to overachieve, but could you tell me a little more about the individuals I'd be working with here?"
How to Construct Smart Questions
Let me save the obsessive-compulsives among you some time—there are far more than 101 smart questions in this book. How do I know (because I didn't count them!)?
While there may be 101 general questions in the book (although I think there are quite a few more), you can ask a near-infinite number of specific, qualifying, clarifying questions.
I intend to point you in the right direction, but the details of such questions are going to be determined by your exact situation, by what you've already said during the interview, and by what the interviewer has already said.
How much (or little) research you've done will also expand (or limit) the depth and breadth of your questions.
Download 101 Smart Questions to Ask on Your Interview, Third Edition PDF 
Author(s): Ron Fry
Publisher: Course Technology, Year: 2009
ISBN: 9781598638547,1598638548
Download 101 Smart Questions to Ask on Your Interview by Ron Fry in PDF Format For Free.
Related More Books
See More POST On : Engineering Books