Home
Tags
How to write a business plan book
Tag: how to write a business plan book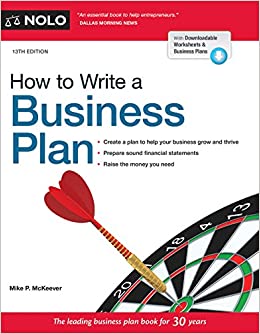 ---
Book Details :
Language
English
Pages
296
Format
PDF
Size
3.14
---
How to Write a Business Plan 8th Edition by Mike McKeever
---
How to Write a Business Plan 8th Edition by Mike McKeever | PDF Free Download.
Author of How to Write a Business Plan PDF
---
Mike P. McKeever's education, work experience, business ownership, writing, and teaching careers give him a broad and unique perspective on business planning.
He has a BA in Economics from Whittier College and a Master's in Economics from the London (England) School of Economics and has done postgraduate work in financial analysis at the USC Business School.
Mike has taught classes at numerous community colleges in entrepreneurship and small business management. He has published articles on entrepreneurship for Dow Jones publications, the Sloan Publications Business Journal, and numerous newspapers and periodicals.
Mike has successfully purchased, expanded, and sold a number of businesses, including a manufacturing company, tune-up shop, gas station, retail store, and commercial building.
He has worked for a variety of companies ranging from small groceries to multimillion-dollar manufacturers. As an independent business broker, he assessed the strengths and weaknesses of hundreds of companies.
As a senior financial analyst for a Fortune 500 company, he wrote and analyzed nearly 500 business plans. Currently, Mike runs a company, Business Plan Workshop, in which this book features prominently.
He conducts workshops for groups of small business owners and takes each person through the actual steps of completing a business plan for his or her individual business.
Business Plan Contents
---
How to Use This Book

Benefits of Writing a Business Plan

Do You Really Want to Own a Business?

Choosing the Right Business

Potential Sources of Money to Start or Expand Your Small Business

Your Resume and Financial Statement

Your Profit and Loss Forecast

Your Cash Flow Forecast and Capital Spending Plan

Write Your Marketing and Personnel Plans

Editing and Finalizing Your Business Plan

Selling Your Business Plan

After You Open—Keeping on the Path to Success

Good Resources for Small Businesses
Preface to How to Write a Business Plan PDF Book
---
first-rate business plan and loan application. How to Write a Business Plan contains detailed forms and step-by-step instructions designed to help you prepare a well-thought-out, well-organized plan. It shows you how to apply proven financial and business planning techniques used by traditional lenders and investors to your benefit.
Coupled with your positive energy and will to succeed, this book shows you how to design a business plan and loan package you will be proud to show to the loan officer at your bank, the Small Business Administration, or your Uncle Harry.
But this book does more than just take you through the steps of writing a business plan. More importantly, the tools and techniques in this book help you decide if your business idea will work.
The same financial and analytical tools are necessary to convince potential lenders and investors that your business idea is sound can help you decide whether your idea is the right business for you.
After working with hundreds of business owners, I have observed an almost universal truth about business planning: Writing a plan is an internal journey through the mind of one person.
Even in partnerships and corporations, usually, one person has the vision and energy to take an idea and turn it into a business by writing a business plan.
For that reason, I have addressed this book to the business owner as a single individual rather than a husband and wife team, group, committee, partnership, or corporation.
How to write a business plan PDF
Author(s): Mike P. McKeever
Year: 2019
Publisher: NOLO
ISBN: 9781413325454,1413325459
Download How to Write a Business Plan 8th Edition by Mike McKeever PDF Free.