Home
Tags
How to think like a computer scientist learning with python pdf
Tag: how to think like a computer scientist learning with python pdf
How to Think Like a Computer Scientist : Learning with Python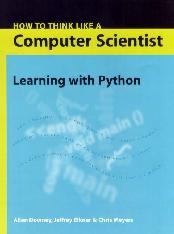 How to Think Like a Computer Scientist
by Allen Downey, Jeff Elkner and Chris Meyers.
This is an older version of the book now known as Think Python.
How to Think… is a Free Book available under the GNU Free Documentation License. Readers are free to copy and distribute the text; they are also free to modify it, which allows them to adapt the book to different needs, and to help develop new material.
How to think like a computer scientist: learning with python
Author(s): Allen B. Downey, Jeffrey Elkner, Chris Meyers
Publisher: Green Tea Press, Year: 2002
ISBN: 9780971677500
Download How to Think Like a Computer Scientist : Learning with Python PDF