Home
Tags
Building services employee handbook
Tag: building services employee handbook
Building Services Handbook PDF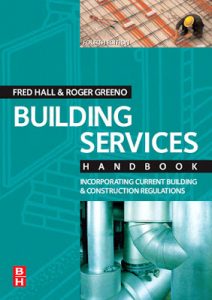 Building Services Handbook By Fred Hall & Rogar Greeno
Book Description:
The ninth edition of Hall and Greeno's leading textbook has been reviewed and updated in relation to the latest building and water regulations, new technology, and new legislation. For this edition, new updates includes: the reappraisal of CO2 emissions targets, updates to sections on ventilation, fuel, A/C, refrigeration, water supply, electricity and power supply, sprinkler systems, and much more.
Building Services Handbook summarises the application of all common elements of building services practice, technique and procedure, to provide an essential information resource for students as well as practitioners working in building services, building management and the facilities administration and maintenance sectors of the construction industry. Information is presented in the highly illustrated and accessible style of the best-selling companion title Building Construction Handbook.
THE comprehensive reference for all construction and building services students, Building Services Handbook is ideal for a wide range of courses including NVQ and BTEC National through Higher National Certificate and Diploma to Foundation and three-year Degree level. The clear illustrations and complementary references to industry Standards combine essential guidance with a resource base for further reading and development of specific topics.
Book Content :
Part One Cold Water and Supply Systems
Part Two Hot Water Supply Systems
Part Three Heating Systems
Part Four Fuel Characteristics and Storage
Part Five Ventilation Systems
Part Six Air Conditioning
Part Seven Drainage Systems, Sewage Treatment and Refuse Disposal
Part Eight Sanitary Fitments and Appliances: Discharge and Waste Systems
Part Nine Gas Installation, Components and Controls
Part Ten Electrical Supply and Installations
Part Eleven Mechanical Conveyors † Lifts, Escalators and Travelators
Part Twelve Fire Prevention and Control Services
Part Thirteen Security Installations
Part Fourteen Accommodation for Building Services
Part Fifteen Alternative and Renewable Energy
Building Services Handbook PDF
Author(s): Fred Hall, Roger Greeno
Publisher: Routledge, Year: 2017
ISBN: 113824435X
Building Services Handbook 9th Edition PDF