Home
Tags
Boyd nonlinear optics academic press
Tag: boyd nonlinear optics academic press
Nonlinear Optics Boyd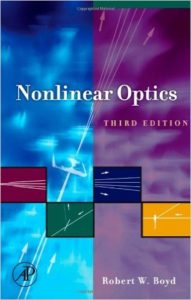 Nonlinear Optics by Robert W. Boyd
Book Description:
Nonlinear Optics, Fourth Edition, is a tutorial-based introduction to nonlinear optics that is suitable for graduate-level courses in electrical and electronic engineering, and for electronic and computer engineering departments, physics departments, and as a reference for industry practitioners of nonlinear optics. It will appeal to a wide audience of optics, physics and electrical and electronic engineering students, as well as practitioners in related fields, such as materials science and chemistry.
Presents an introduction to the entire field of optical physics from the perspective of nonlinear optics
Combines first-rate pedagogy with a treatment of the fundamental aspects of nonlinear optics
Covers all the latest topics and technology in this ever-evolving industry
Contains a strong emphasis on fundamentals
Nonlinear optics is the study of the interaction of intense laser light with matter. The third edition of this textbook has been rewritten to conform to the standard SI system of units and includes comprehensively updated material on the latest developments in the field.
Book Contents
Front Cover — Nonlinear Optics — Copyright — Contents — Preface to the Fourth Edition — Preface to the Third Edition — Preface to the Second Edition — Preface to the First Edition — 1 The Nonlinear Optical Susceptibility — 1.1 Introduction to Nonlinear Optics — 1.2 Descriptions of Nonlinear Optical Processes — 1.2.1 Second-Harmonic Generation — 1.2.2 Sum- and Difference-Frequency Generation — 1.2.3 Sum-Frequency Generation — 1.2.4 Difference-Frequency Generation — 1.2.5 Optical Parametric Oscillation — 1.2.6 Third-Order Nonlinear Optical Processes
Nonlinear Optics PDF
Author(s): Robert W. Boyd
Publisher: Academic Press, Year: 2020
ISBN: 0128110023