Home
Tags
Books on air conditioning and refrigeration
Tag: books on air conditioning and refrigeration
Refrigeration and Air Conditioning Book PDF Free Download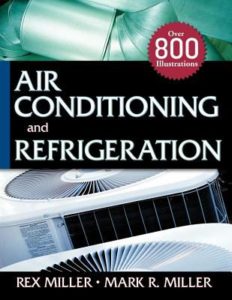 Air Conditioning and Refrigeration By Rex Miller, Mark R. Miller PDF
Book Title : Air Conditioning and Refrigeration
Author(s)  : Rex Miller, Mark R. Miller
Publisher  : McGraw Hill
Published  : 2006-04-01
Pages        : 626
PDF Size   : 18 Mb
Book Overview:
Air Conditioning and Refrigeration helps you understand today's cooling and climate control systems-so expertly that you can use it as the foundation for a career! Clear instructions-with over 800 photographs and illustrations-offer step-by-step guidance to learning the trade for students, professionals, and homeowners who want to do their own installations or repairs.
Written by experienced teachers Rex and Mark R. Miller-whose Carpentry & Construction has been a building classic for more than 25 years-Air Conditioning and Refrigeration has all the task-simplifying details you need for any project. In the popular Miller style, this complete and current guide helps:
New and student technicians. Build on-the-job skills and the knowledge needed to succeed in a fast-growing, lucrative field.AC and refrigeration pros. Refine and update skills, with full information on the latest cost-cutting technologies, refrigerants, and tools.Do-it-yourselfers and homeowners. Make expert equipment and tool choices and achieve superior results, economically.Service personnel, technicians, contractors, engineers, and facility managers. Find up-to-date information on codes, standards, safety tips, and methods.Anyone who needs clear, illustrated, step-by-step instructions for efficient, cost-effective, and current methods in choosing, installing, maintaining, troubleshooting, servicing, and repairing today's AC and refrigeration equipment.
Table of Contents:
Chapter 1: Introduction.
Chapter 2: Psychometrics.
Chapter 3: Heat and Moisture Transfer through Building Envelope.
Chapter 4: Indoor and Outdoor Design Conditions.
Chapter 5: Energy Management and Control Systems.
Chapter 6: Load Calculations.
Chapter 7: Water Systems.
Chapter 8: Heating Systems, Furnaces, and Boilers.
Chapter 9: Refrigerants, Refrigeration Cycles, and Refrigeration.
Chapter 10: Refrigerants Systems: Components.
Chapter 11: Refrigeration Systems: Reciprocating, Rotary, Scroll, and Screw.
Chapter 12: Heat Pumps, Heat Recovery, Gas Cooling, and Co-generation Systems.
Chapter 13: Refrigeration Systems: Centrifugal.
Chapter 14: Refrigeration Systems: Absorption.
Chapter 15: Air Systems: Components – Fans, Coils, Filters, and Humidifiers.
Chapter 16: Air Systems: Equipment – Air-Handling Units and Packaged.
Chapter 17: Air Systems: Air Duct Design.
Chapter 18: Air Systems: Space Air Diffusion.
Chapter 19: Sound Control.
Chapter 20: Air Systems: Basics and Constant-Volume Systems.
Chapter 21: Air Systems: Variable-Air-Volume Systems.
Chapter 22: Air Systems: VAV Systems – Fan Combination, System Pressure, and Smoke Control.
Chapter 23: Air Systems: Minimum Ventilation and VAV System Controls.
Chapter 24: Improving Indoor Air Quality.
Chapter 25: Energy Management and Global Warming.
Chapter 26: Air Conditioning Systems: System Classification, Selection, and Individual Systems.
Chapter 27: Air Conditioning Systems: Evaporate Cooling Systems and Evaporation Coolers.
Chapter 28: Air Conditioning Systems: Space Conditioning Systems.
Chapter 29: Air Conditioning Systems: Packaged Systems and Desiccant-Based Systems.
Chapter 30: Air Conditioning Systems: Central Systems and Clean-Room Systems.
Chapter 31: Air Conditioning Systems: Thermal Storage Systems.
Chapter 32: Commissioning and Maintenance.
Appendix A: Nomenclature and Abbreviations.
Appendix B: Psychometric Chart, Tables, and I-P Units to SI Units Conversion.
Air Conditioning and Refrigeration PDF
Author(s): Rex Miller, Mark R. Miller
Publisher: McGraw-Hill, Year: 2006
ISBN: 9780071487412, 0071487417