Home
Tags
Book review of twelve red herrings
Tag: book review of twelve red herrings
Twelve Red Herrings PDF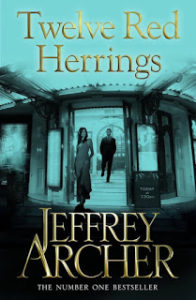 Originally published: July 1994
Author: Jeffrey Archer
Page count: 324
Publisher: HarperCollins
Country: United Kingdom
Genres: Fiction, Mystery, Suspense
Twelve Red Herrings is a collection of short stories, each of which comes with a twist. The book has been carefully styled and the author has made sure to keep the characters unique to match the skilfully drafted plots. Each of these stories ends with a unique twist that comes with an out-of-the-blue turn of events in the story.
As the book progresses, the readers are encouraged to discover twelve 'red herrings', one of which is in each of the stories that make up the book. The book comprises of twelve short stories, namely Trial and Error, Cheap at Half The Price, Dougie Mortimer's Right Arm, Do Not Pass Go, Chunnel Vision, Shoeshine Boy, You'll Never Live to Regret It, Never Stop on the Motorway, Timeo Danaos, An Eye for An Eye and One Man's Meat.
An imprisoned man is convinced that his murdered victim is actually alive. This forms the plot of one of the book's stories. The next is about a female driver who is continuously followed by a person in another vehicle. Another story is about a young artist who gets the biggest possible break in her career. One of the other stories is about how a restless beauty succeeds in pulling off a birthday celebration that is absolutely perfect. In the final story of this collection, the author has offered his readers a choice of four endings.
A collection with multiple twists and turns, the new ed edition of Twelve Red Herrings was published by Pan Macmillan in 2004 and is available in paperback.
Key Features:
This book reached the third position in the Canadian best-sellers list of fiction.
Buy PaperBook
Twelve Red Herrings PDF